Press release
Publication of DWP research report 693: Partnerships with local authorities and health agencies
Research into existing partnership arrangements with two key partner organisations - local authorities and local health organisations.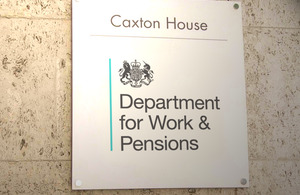 A report is published today by the Department for Work and Pensions containing the findings of research into existing partnership arrangements with two key partner organisations - local authorities and local health organisations. The research aimed to identify factors that would assist in the development of improved partnership arrangements with these particular partners. 
The research was undertaken between January 2010 and March 2010 and included:
a limited review of literature focussing principally on recent evaluations of inter-agency partnerships and characteristics of effective partnership arrangements in government and executive agencies;
In-depth interviews with key personnel from PDCS focussing on the agency's aspirations for partnership working with local authorities and health agencies;
In-depth interviews with a limited number of key national informants in relevant government departments and agencies;
an On-line survey of local PDCS staff;
a Telephone survey of a sample of local partners from local authorities and health agencies; and
six in-depth case studies involving interviews with PDCS staff and staff from local partner agencies.
The key findings of the literature review were:
Successful partnerships are reliant on a mutual understanding between partners and an understanding of the local context within which they operate.  The commitment to partnership working must be embedded at all levels of the partner organisations.  Partnerships work best when there is clarity about the purpose of the partnership, agreed objectives and outcomes and clarity of partners' respective roles, responsibilities, lines of accountability and reporting mechanisms.
Partnerships are facilitated by good working relations between individuals, mutual trust and respect and work well when there are positive outcomes for all partners; and, in the same way any risks associated with partnership working also need to be shared. Partnerships require an appropriate level of resources to ensure that they function smoothly.
Key findings from the primary research
PDCS staff and health and local authority partners agreed on the key reasons why Partnership working was important.  These were the desire to provide a better service to customers and to meet their needs more effectively; maximising customers' income; meeting organisational targets; and reaching the most vulnerable and hardest to reach customers.
The majority of current partnership arrangements with local authorities and healthcare agencies are almost always operational in nature with a mix of formal and informal arrangements.
A range of generic barriers to partnership working were identified together with barriers that relate specifically to local authorities and healthcare agencies particularly. These need to be acknowledged and addressed if partnership working is to be successful.
A number of factors that help the process of partnership working were identified including: long term commitment and a strategic steer; time and resources to dedicate to partnership working; provision of up to date information; and training and awareness raising sessions for partners.
A set of common success criteria were identified across PDCS and its partners. These include: positive outcomes for customers; effective systems for communications between partners; access to information and information sharing; and mutual understanding between partners.
Notes to Editors
The DWP research report Partnerships with local authorities and health agencies will be published on 23 September 2010.
Policy Research Institute at Leeds Metropolitan University conducted the research.  The report author is Janie Percy-Smith.
Published 23 September 2010