Press release
Publication of DWP Research Report 680:Training and progression in the labour market
Research published by DWP reviews recent trends on training, and the link between training and changes in employment charcacteristics.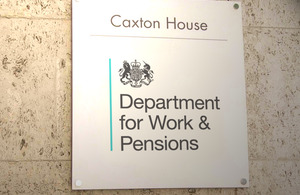 Research published today by the Department for Work and Pensions reviews recent trends on training, and seeks to uncover the link between training and changes in employment characteristics. Specifically, it looks for a relationship between undertaking training and gaining, retaining and advancing in employment.
Key findings from the research:
Training was most commonly received by younger people, women, public sector employees (especially those in local government, health or the armed forces) and workers in non-profit organisations. Workers in large organisations and those with higher qualifications were also more likely to have received training. Training also seems to be more prevalent among higher earners (those in the top quintile of earners) and those relatively new to the job, which is linked to the provision of induction.
The report does find a small effect on wages of undergoing training, and also increases in the rate of retention and moving into paid work.  However, the incidence of training appears to be falling (which may be reflecting higher unemployment), except among older workers.
Background and objectives
The Department for Work and Pensions (DWP) commissioned The University of Birmingham to undertake research to help it understand the link between training and changes in employment characteristics (especially wages).  
The research seeks to identify who undertakes training and how progression, retention and advancement differ between and within key groups, what are the benefits deriving from government-funded and privately-funded training and lifelong learning, and what is the relationship between undertaking training on the one hand and gaining, retaining and advancing in employment on the other.
The report concerns the training that people receive whilst in work, or in anticipation of working in the future, and the effects it has on people's careers. 
Most of the past literature has focused on wage progression, taking hourly wage rates as the main (and often the only) dependent variable to analyse.  This remains a key focus of this report, which provides new estimates of the wage gain to training. Advancement can also refer to career progression such as promotion or moving into a higher paid job.  It may also be an important part of moving into work, and remaining there, and may affect reported levels of job satisfaction.
Trends in training 1994-2008
The proportion of workers aged 16-69 in training rose from about 20 per cent in 1994 to around 28 per cent in 2003.  This trend has been flat or on the decline since then, and particularly from 2005 onwards.  This recent downward trend is found among virtually all groups.  An important exception is older workers, aged 50 or above, who continue to enjoy increasing rates of training provision.
Changes in wages and training
Hourly wage rates grew by 4.4 per cent between the 2006 and 2007 British Household Planning Survey interviews, for those respondents working at both waves of interviews.  They grew by 5 per cent where a respondent had received some training, and by 4 per cent otherwise.  The rate of growth was higher where training was received, irrespective of the level of wages in 2006. The highest increases in hourly earnings between 2006 and 2007 were achieved by young people, those aged between 16 and 34, and especially those at the younger half of this range.
For most age groups, except those under aged 20, the rate of wage increase was raised if they had undergone a period of training. 
Those who received training, compared to those who had not, showed greater variability in job satisfaction.  That is, where a person had received training, they were both more likely to report an increase in job satisfaction, and more likely to report decreased job satisfaction.  By contrast, there was greater stability in the reported levels of job satisfaction among those who did not receive training.
Notes to Editors:
DWP Research Report No 680 - Training and progression in the labour market, is published today, 17th August 2010, by DWP
The research was conducted on behalf of DWP by The University of Birmingham. The report authors are Stephen McKay and Sin Yi Cheung
The report and summary are available free at: http://research.dwp.gov.uk/asd/asd5/rrs-index.asp
The report is based on secondary analysis of literature and existing surveys
** Media Enquiries: 0203 267 5108
Out of hours: 07659 108 883
Website: www.dwp.gov.uk**
Published 17 August 2010