Publication of DWP Report 768: The Jobseeker's Allowance Skills Conditionality Pilot
Research reports on a pilot programme under which JSA claimants with a skills need were required to attend training or lose their benefits.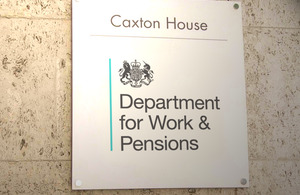 Research published today reports on a pilot programme under which JSA claimants with a skills need were required to attend training, or lose their benefits. The pilot was designed to be evaluated using a random assignment approach. However, difficulties in the implementation of the pilot meant that robust overall estimates were not possible. A stronger basis for impact estimates existed for those individuals identified through basic skills screening as having a potential skills need - no impact was detected on training, sanctions or early labour market outcomes for this group.
The research found that those claimants who were mandated were generally in favour of training, but said it did not always meet their needs or was not of the quality they would have liked. Although they were mandated to training, many said they would have attended in any case, because they welcomed the activity and the help and because they felt a general obligation to follow their JCP adviser's recommendations.
Findings:
Jobcentre Plus workload contributed to JCP Advisers feeling uncertain about aspects of the pilot, including eligibility, the definition of 'skills need' and random assignment.
Many factors impacted on referal volumes being lower than expected. This included availability of provision and uncertaintainty about the continuation of the pilot following the General Election.
Many claimants welcome the support offered to them to help them return to work, including training.
Training leading to certification, enabling job seekers to work in regulated industries and occupations, for example security and construction, was most welcome but not always available. Repeated courses in job search and CV writing were not appreciated by claimants.
Shortages of training were reported in some areas of the country, including in English for Speakers of other Languages (ESOL) and gaps in college provision during the summer months.
Although some claimants and advisers felt that mandation to training was sometimes reasonable and had its role in dealing with a minority of 'work-shy' claimants, it was also argued that the policy treats all claimants indiscriminately as 'work-shy'. The report also notes that some long-term unemployed require individual help to overcome barriers, such as having a criminal record or health problems, rather than training.
Few claimants in the research had their benefits stopped for non-compliance, and a number were sanctioned for lateness or forgetting to attend rather than for rejecting the training offered. The report concludes that sanctions can cause hardship to families and is in many cases unlikely to be effective in encouraging future compliance.
Notes to Editors:
The DWP Working Paper/Report 768 'The JSA Skills Conditionality Pilot is published on 19th August 2011. Read the full report
The Job Seeker's Allowance (JSA) Skills Conditionality Pilot was launched on April 2010 with the aim of exploring the effects of mandating participation in training. The pilot targeted JSA claimants entering stage 3 of the Jobseeker's Regime and Flexible New Deal (JRFND) - generally unemployed for 6 months - with an identified skills need. The pilot was designed to randomly assign claimants to a test group, where they were mandated to training, and to a control group, where training would be voluntary. Assignment was on the basis of National Insurance Number.
The report presents the findings from two parallel studies of the pilot. The quantitative analysis used administrative data to assess the implementation of the pilot and whether it could be used to provide valid estimates of the impact of mandation. The qualitative analysis explored the experiences, views and behaviour of participants in the pilots: principally mandated claimants and Jobcentre Plus (JCP) advisers, but also training providers.
The research was carried out on behalf of the DWP by Richard Dorsett (quantitative analysis), Heather Rolfe and Anitha George (qualitative research) at the National Institute of Economic and Social Research.
DWP Press Office: 0203 267 5144
Prepared by: Department for Work and Pensions Strategy Directorate
Published 19 August 2011