Press release
Public use 'good deed app' to help 4,000 rough sleepers off the streets
A year on from the launch of StreetLink over 4,000 rough sleepers have been offered support and services to help get them off the streets.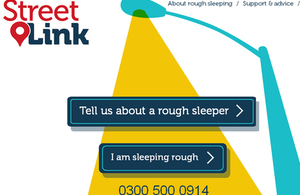 Housing Minister Kris Hopkins today (10 December 2013) hailed the StreetLink service, which has directly helped 4,000 rough sleepers in the first year since its launch, a success.
Members of the public have been using the StreetLink app, phoneline and website to inform local authorities about vulnerable people in their area. Outreach workers have then been able to get in touch with rough sleepers to offer the support they need to get their lives back on track.
Mr Hopkins said StreetLink showed the power of combining technology with the goodwill of the British public. He urged people to use StreetLink's 'good deed app' over the Christmas period and colder months to help connect more rough sleepers with the right advice and services.
Giving people a way to help
Over the last year there have been almost 11,000 alerts to local services; and half of those who have used StreetLink have never helped a rough sleeper before.
Polling has also shown that the British public have a vast desire to help - but are confused about the best way to do so.
StreetLink, run by charities Homeless Link and Broadway with support from the government, offers a "valuable alternative" to a cash handout for people sleeping rough, enabling the public to provide practical help in just a single step.
On a visit to Streetlink today Mr Hopkins met staff providing the vital link between incoming calls and getting the support to the people who need it. He heard from the team about the way in which the service was helping to turn people's lives around
Housing Minister Kris Hopkins said:
I am determined that every effort is made to tackle rough sleeping and get more support to vulnerable people. It is encouraging to see that through Streetlink over 4,000 rough sleepers have been offered support and services to help them get off the streets.

Part of the reason StreetLink has been so successful is because the app and phoneline make it easy to help a person sleeping rough, not with a cash handout but with the valuable alternative of practical support.

Christmas is the season of goodwill, and as the cold weather kicks in, I urge anyone concerned about a rough sleeper in their area to download the app and get in touch with StreetLink.
Rick Henderson, Chief Executive of Homeless Link, said:
The service is enabling so many people to help rough sleepers for the first time. It's very encouraging to see new technology being used as a real force for good in this way.

If you're concerned about a rough sleeper in your local area, call 0300 500 0914 or visit www.streetlink.org.uk - and help them get the support they need.
Howard Sinclair, Chief Executive of Broadway, said:
I'm delighted that in its first year, StreetLink has already made such a difference.

It's great to see the British public coming together to help homeless people in their local communities. But more needs to be done - and quickly. As temperatures drop, it's crucial we all act to help those left out in the cold.
Those looking to offer help can call 0300 500 0914 or go to www.streetlink.org.uk to put those sleeping rough in touch with services who can help them get support and safe accommodation.
No second night out
The government's support for StreetLink is part of efforts to prevent and tackle rough sleeping and get more support to vulnerable people. This includes the £20 million Homelessness Transition Fund that has helped charities reach over 14,000 people across the country by offering help with issues including accommodation, health and jobs.
The funding is also helping to roll out the 'No Second Night Out' pledge across the country. Started in London, this innovative scheme helps rough sleepers off the streets immediately, with the aim that no one should spend more than 1 night on the streets.
Further information
Launched in December 2012, StreetLink is a website, telephone service and app that enables individuals to alert local authorities in England when they are concerned about someone sleeping rough, and is the first step someone can take to ensure rough sleepers are connected to the local services and support available to them: www.streetlink.org.uk / 0300 500 0914. StreetLink is run by the charities Homeless Link and Broadway and funded by the Department for Communities and Local Government and the Greater London Authority.
Public desire: in a Populus poll of 2,099 UK adults, nearly half (48%) of all adults said they feel guilty when they see a rough sleeper and don't know the best way to help and 46% would welcome an easy way to take action. (November 2012).
StreetLink users: in a survey of 546 people who have used the StreetLink service, 47% of respondents said they had never helped a rough sleeper before using StreetLink. Of those who had most had given food or money, 86% of users would recommend the services (Homeless Link July 2013).
Published 10 December 2013