Press release
Public Services at the British Embassy in Cairo are Fully Operational Today
UPDATED: Tuesday 16 December - Public Services at the British Embassy in Cairo are Fully Operational Today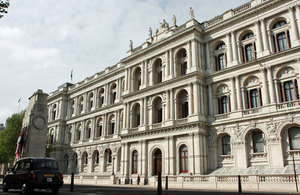 Updated Tuesday 16 December
Public Services at the British Embassy in Cairo are Fully Operational Today
Updated Tuesday 9 December
Public services at the British Embassy in Cairo are currently suspended. The office of the British Consulate-General in Alexandria is operating as normal.
This does not affect our travel advice. We continue to support British investors and tourists visiting Egypt.
We are working on some simple, practical steps related to the physical security of our building to allow us to resume full public services. The UK government is in close partnership with the Egyptian government to develop these measures and offer solutions which minimise disruption to local residents.
We are grateful for the Egyptian government's good cooperation this week. We look forward to resolving the outstanding practical issues and restarting full public services as soon as possible
Ambassador John Casson said:
Public services at the British Embassy are currently suspended. We have taken this decision to ensure the security of the Embassy and our staff.
It is important that British Nationals know that this step does not affect our general travel advice for British Nationals in Egypt and that British Nationals who need help can still receive consular assistance by calling 0227916000.
We are working to restore full services as quickly as possible and to keep British Nationals in Egypt and other customers informed.
I am grateful for the close and ongoing cooperation with the Egyptian government to achieve this.
Until the embassy re-opens, the following arrangements are in place for our customer services:
Travel Advice:
UK travel advice to Egypt can be found here.
Consular:
UK nationals who need consular assistance in Egypt should call 0227916000.
Documentary services are currently suspended.
Please do not come to the embassy building.
Visas:
We are not able to receive new visa applications at this time.
The Visa Application Centres in Cairo and Alexandria will remain open for enquiries and for the return of passports where the applicant has received notification that the passport is ready for collection.
Applicants whose visa applications are currently already in the application system should be aware that the return of their passports may be temporarily delayed. Those who require the urgent return of their passport should get in contact with the visa application centre http://www.tpcontact.co.uk/ or UKVI via our usual channels https://www.gov.uk/contact-ukvi-outside-uk.
Alternatively visa applications for visit visas can be made in any other country with a Visa Application Centre. For all other types of visas, applicants are advised to submit their applications in the United Arab Emirates or Jordan.
Please do not come to the embassy building.
Published 7 December 2014
Last updated 16 December 2014
+ show all updates
Public Services at the British Embassy in Cairo are Fully Operational Today.
Public services at the British Embassy in Cairo are currently suspended. The office of the British Consulate-General in Alexandria is operating as normal. This does not affect our travel advice. We continue to support British investors and tourists visiting Egypt. We are working on some simple, practical steps related to the physical security of our building to allow us to resume full public services. The UK government is in close partnership with the Egyptian government to develop these measures and offer solutions which minimize disruption to local residents.
Public services at the British Embassy in Cairo are currently suspended.
Added translation