Press release
Public inquiry ordered on Humber Bridge tolls application
Humber Bridge proposals for tolls increase to face public inquiry.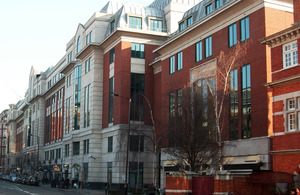 A public inquiry on proposals to increase the Humber Bridge tolls has been ordered by the government.
The Department for Transport has received an application from the Humber Bridge board to increase the tolls on the bridge effective from 1 April 2011.
Given the likelihood of objections to the proposals the government has decided to order a public inquiry immediately.
Regional and Local Transport Minister, Norman Baker MP, said:
We know that there is a great deal of interest in the tolls on the Humber Bridge, and that a variety of individuals, businesses and local groups are likely to have views on the bridge board's proposals.

It is only right that any parties with an interest are able to put forward their objections at a public inquiry. That is why we have decided to proceed directly to the public inquiry stage where the case for and against any increase can be heard in full.
A public notice will be published by the Humber Bridge board providing details of the public inquiry, the proposed increase and where objections can be sent.
Notes to editors
The Humber Bridge is governed by the Humber Bridge Act 1971.
Sections 10(3) of the Humber Bridge Act 1971 provides that the Secretary of State shall cause a local inquiry to be held if required by the applicant or by any person with a substantial interest who has objected to the application and has not withdrawn his objection. In addition, the Secretary of State "may in any case, if he thinks fit, cause a local inquiry to be held". In this case the Secretary of State has decided to exercise these discretionary powers and proceed directly to a public inquiry.
The tolls on the Humber Bridge were last raised in 2006.
News desk enquiries
Media enquiries 020 7944 3021
Out of hours media enquiries 020 7944 4292
Switchboard 0300 330 3000
Published 30 September 2010