Public data means the UK is "open for business"
The government's commitment to transparency through world-leading releases of public data is driving economic growth.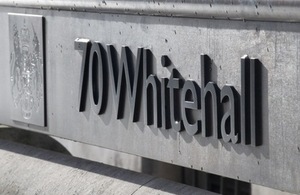 The government's commitment to transparency through world-leading releases of public data is driving economic growth, Francis Maude said today. The Minister for the Cabinet Office confirmed that the government is giving a new generation of innovative entrepreneurs the opportunity to create new businesses by exploiting large tracts of valuable open data. Read Francis Maude's speech here.
He was speaking to small and medium-sized enterprises (SMEs) at a seminar hosted by Digital Birmingham to celebrate the city's commitment to open government, open data and digital technologies.
Francis Maude said:
Britain is leading the world by making ever more data freely available.

Today, we are showing how companies including SMEs and start-ups, in Birmingham and beyond, are using open data to improve public services and create innovative products.

In the next few months, we will relaunch data.gov.uk - already the largest global resource of its kind - to make it easier to use, so that businesses and entrepreneurs can access free data more readily.
The government wants both data holders and new data-driven businesses to promote the open data revolution. Their feedback will help shape future data releases; and success stories will show other companies and entrepreneurs how open data can grow business or create new enterprises.
Two examples, published today, of the public service and commercial uses of open data have Birmingham connections.
Birmingham's Civic Dashboard is a leading illustration of how data transparency can give citizens greater awareness of how government is responding to their needs and wishes. The Dashboard gives local people an online, accessible way of understanding how their city is doing. Launched in October 2011, it maps, times and categorises the calls, visits, website enquiries and emails that come into Birmingham City Council every day.
Another innovative data-driven business is Integrated Transport Planning Ltd (ITP), a specialist consultancy on integrated, sustainable transport planning and research, with operations in Birmingham, Nottingham and Milton Keynes. ITP uses publicly available location and travel data to bring information about accessible transport networks together at one online location.
Paul Tilsley, Deputy Leader, Birmingham City Council and Chair of the Digital Birmingham Partnership, said:  
Making data openly available provides real opportunities to transform our services and create value for citizens and communities. Digital Birmingham has worked with SMEs such as Podnosh and Mudlark on projects that include BeVocal.org.uk and the Birmingham Civic Dashboard, which are great demonstrators of what is possible with public data to help a cause or improve neighbourhoods.

Entrepreneurs and businesses will play a pivotal role in driving innovation to deliver new services and applications that will create jobs and build vibrant and successful communities. Our focus is to make the data open and accessible and create the right conditions that will enable them to derive the benefits of being part of our Smart, Connected and Open City.
Notes to editors
The minister spoke today at a Digital Birmingham roundtable at Fazeley Studios in Birmingham.
Examples of business using open data will be available on the Open Data Innovation Community hub at from Wednesday, 14 March. Other contributions of growth using open data are invited on the hub.
An Open Data Institute, to be formed later this year with £10 million of matched government funding, will work with entrepreneurs, businesses, funders and academics to help maximise the commercial value of open data. Professor Nigel Shadbolt, co-director of the new institute with Internet pioneer Sir Tim Berners-Lee, is speaking today at the Digital London event on digital innovation, technology and creativity.
The UK is also taking the lead on the world stage. In April it will become co-chair with Brazil of the Open Government Partnership, an international initiative to improve transparency, boost global prosperity and fight corruption.
As well as at www.data.gov.uk, you can stay in touch with government activity on Transparency and Open Data through Twitter: @UKTransparency; @datagovuk; or @cabinetofficeuk.
Visit Birmingham's Civic Dashboard.
For more information about Mudlark, the company behind Birmingham Civic Dashboard, visit www.wearemudlark.com/.
For more information about ITP and its new travel data product Access Advisr, visit www.itpworld.net.
Digital Birmingham was established in 2006 to ensure the benefits of digital and new emerging technologies are available to all people, businesses and sectors in the city.  The Digital Birmingham partnership includes representation from key business, research, educational, health and community sector organisations such as Virgin, Cisco, Centro, E.ON Energy Solutions Ltd, Coventry University Enterprises, Birmingham City University, Birmingham Science Park (Aston) and Marketing Birmingham. By developing the city's digital infrastructure and digital services, it is determined to see Birmingham become a Smart, Connected City which will be critical in enhancing the region's economic opportunities, as well as promoting greater social inclusion, enterprise and wellbeing.
Published 14 March 2012