Press release
Next Parades Commission to be appointed
Secretary of State launches process to recruit a new 5-member Commission to adjudicate sensitive parades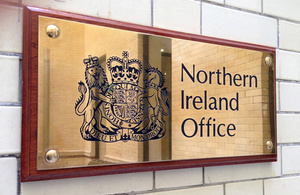 The term of the current Parades Commission members is due to end on 31 December 2013. In order to fill these forthcoming vacancies, the Secretary of State, Rt Hon Theresa Villiers MP, has announced that she will launch a public appointments process to recruit a new 5-member Commission.
Commenting on this decision, the Secretary of State said:
The Haass talks provide a welcome opportunity to see if a devolved solution can be agreed for the adjudication of contentious parades. I am very supportive of that work and I hope that progress can be made. In the meantime, the Parades Commission will continue to be the body responsible for these matters.
As the term of the current commissioners is due to expire at the end of the year, I am today launching a recruitment process for their successors. Whilst the new members will be appointed for a 3 year term from 1 January 2014, their tenure of office could finish early if the Haass group achieves a consensus on a new devolved system of decision-making on parades.
I regard the task carried out by Peter Osborne and the Commission as one of the most important and challenging in Northern Ireland. He and the rest of the commissioners have fulfilled their role with fortitude and commitment over the past three years. I would like to place on record my gratitude for their public service under difficult circumstances.
The new appointments will be made following an open competition regulated by the Office of the Commissioner for Public Appointments (OCPA). The positions will be advertised in the local press and on public appointments websites in the coming weeks.
The Secretary of State is writing to the leaders of all the Northern Ireland political parties asking them to encourage suitable candidates from across the community to apply.
Note for Editors
The Parades Commission members were appointed from 1 January 2011 for a period of 3 years.
Appointments to the Parades Commission are made under the terms of the Public Processions (Northern Ireland) Act 1998 and regulated by the Commissioner for Public Appointments.
Best practice guidance issued by the Cabinet Office states that re-appointment to a public body should not be automatic and should be considered against the advantages of introducing fresh thinking to complex issues.
Published 4 October 2013