Providing canine heroes for the front line
Military working dogs provide valuable capability to British patrols on the front line. But procurement by DE&S begins many miles from Afghanistan.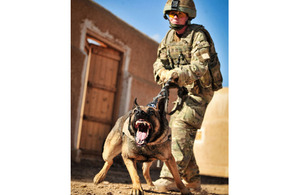 They may be man's best friend, but nowhere is that more true than on the front line of Afghanistan, where they are proving their worth saving a host of lives.
Military working dogs have seen their profile rise as they become more successful in sniffing out threats to British forces on patrol in Helmand province.
Dog handlers are specialists; so are the members of the team charged with procuring them. It's not just a case of popping down to the local dogs' home for an animal which will eventually have to work in the sand and dust of Afghanistan.
The five-strong team took on the task of bringing greater coherence to the procurement and support of dogs across Defence Equipment and Support (DE&S) a couple of years ago:
We all worry every day about all things 'dog'," said programme manager Lieutenant Colonel Mike Purnell of the Force Protection Delivery Team.
Members now scour the globe, talking to specialist companies, choosing suitable dogs, concluding contracts, and putting support networks into place.
They have recently delivered a number of additional search dog capabilities to theatre as urgent operational requirements - the dogs are used to locate improvised explosive devices (IEDs) in support of specialist search teams and dismounted patrols. Future inclusion in the core equipment programme is the aim:
Because things used to be done so quickly, we probably paid more than Defence traditionally would pay for dogs. So we have taken a whole capability approach," said Lt Col Purnell.
We have not just bought the dog; we have bought the whole support package, from leashes, to a first aid kit for the handler, to all the kennelling for the dogs to live in.
We have worked with other delivery teams across DE&S [kennelling through Expeditionary Campaign Infrastructure, first aid kits through Medical and General Supplies, food through Defence Food Services], effectively conducting the orchestra of teams rather than playing all the instruments; the sheet music though, the requirements, are all ours.
We have been responsible for the project management.
The team's buyers look for dogs between 18 months and three years old who will already have had some training:
We don't specify a breed but the majority are typically Belgian Malinois or Labrador Retrievers," said Lt Col Purnell.
With these dogs we also bought handler training where the handler will be locally trained with the dog. Then we'll ship them back to the UK and eventually on to Afghanistan.
We are in the process of establishing that type of capability in the UK which will reduce any outside reliance. That will set ourselves up for moving into the core programme.
As Operation HERRICK has progressed, dogs have become as important as any of the other more high-tech means of detecting threats. Lt Col Purnell said:
It is a key lifesaving capability and a key part of force protection for a patrol. Troop numbers will be withdrawn from Afghanistan in the next two years quicker than dog numbers. The dog will have a role in Afghanistan right to the end.
The team has developed new skills while carrying out its role:
I am an engineer. I don't have a dog background, so I have had to learn," said the Lieutenant Colonel.
As a team we have come from a variety of backgrounds and we have all learned quickly. It's an emotive subject too.
You would not normally describe the dog as equipment and people get very upset when you describe it as such. The dog is an animal, and it has equipment around it to support it.
Welfare of the dog is key:
There is a range of kennelling available and we put the dog in the best kennelling the particular location can accommodate," said Lt Col Purnell.
"They don't live with their handlers; they are not pets, they are working dogs. We have invested in the best first aid which is available at forward locations.
Full vet support is available at Camp Bastion and the dogs go through the same evacuation chain as the soldiers.
They will be evacuated to the Defence Animal Centre, if necessary, which is the final link in the chain.
We don't take short cuts on animal welfare. We think they are great dogs and it is marvellous to watch them doing their work.
Helen Harper, DE&S military working dogs project officer, explained:
You cannot just pop down to the local dogs' home or contact a recognised breeder. These dogs are highly trained animals capable of detecting IEDs and performing the task in extremely hostile environments that include dust, sand and helicopters.
There are limited people who have the skills to supply and train such a specialist dog.
David Penlington, DE&S force protection leader, concluded:
It is thanks to the military working dogs team that we have been able to deploy a significant 'detect' capability that has saved multiple lives in theatre.
Published 8 August 2012