News story
Protecting workers on radioactive sites: apply for contracts
Organisations can apply for a share of up to £850,000 to develop ways to better equip and protect those working on decommissioning nuclear facilities.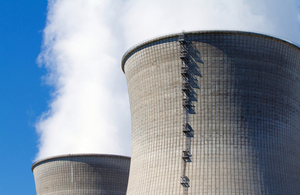 Sellafield Ltd has up to £850,000 to invest in innovative ways of equipping and supporting nuclear-decommissioning operators working in hazardous environments.
This competition is funded under SBRI (Small Business Research Initiative). Up to £350,000 is available to fund a series of feasibility studies. The best ideas could share a further £500,000 for development and demonstration in non-radioactive environments.
Decommissioning Sellafield
Decommissioning of its nuclear power stations, waste management and site remediation will be a major priority for Sellafield over the next 5 years.
The estimated cost of decommissioning Sellafield is in the region of £85 billion. Current methods of decommissioning are more than 60 years old and usually involve the use of personal protection equipment.
Sellafield wants to do things in a safer and faster way. This includes working with new and existing suppliers to trial innovative ideas that protect workers carrying out hazardous tasks.
Projects must support decommissioning operators
Sellafield is looking for ideas that protect, monitor and help decommissioning operators working in a hazardous environment.
Projects need to meet more than one of the following objectives:
reduce time and complexity of tasks before entering a hazardous area
protect operators from exposure to radiation and other hazards such as contamination, physical injury and heat stress
improve the working experience and productivity including through enhancing senses, better communications, more comfortable conditions, greater capability and better real-time information
reduce waste
minimise time and effort required from support teams
Competition information
the competition opens on 23 April 2018, and the deadline for registration is at midday on 13 June 2018
it is open to any organisation that can demonstrate a route to market for its idea
we expect phase 1 contracts to be worth between £10,000 and £35,000 and to last up to 3 months
we expect phase 2 contracts to be worth between £50,000 and £160,000 and to last up to 12 months
successful projects will attract 100% funded development contracts
Published 4 April 2018