Protecting victims of domestic violence
A year-long pilot scheme that provides increased protection for victims of domestic violence is to continue in Greater Manchester, Wiltshire and West Mercia police force areas.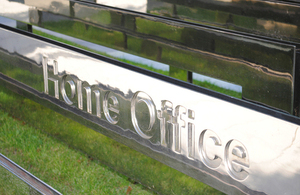 The Domestic Violence Protection Order (DVPO) pilot closed on Saturday 30 June but all three police forces will continue the scheme while the Home Office evaluates the pilot to assess whether or not a change in the law is needed.
Breathing space
Under the scheme the police and magistrates can protect a victim when they are at their most vulnerable, in the immediate aftermath of an attack, by preventing the perpetrator from contacting the victim or returning to their home for up to 28 days. This helps victims who may otherwise have to flee their home and gives them the space and time to access the support they need and to consider their options.
Home Office Minister Lynne Featherstone said: 'Our ambition is nothing less than ending all forms of violence against women and girls. Domestic violence is an appalling crime which sees two women a week die at the hands of their partners, while millions more suffer years of abuse in their own homes. That is why we are constantly looking at new ways of protecting victims and preventing tragic incidents from happening.
'I am pleased that Greater Manchester, Wiltshire and West Mercia police will continue running the scheme, which means even more victims will be protected.'
Around 320 DVPO's have been issued since the scheme began in June 2011. The Home Office has commissioned an evaluation of the pilot to capture lessons learnt and explore the implications of DVPOs for victims, perpetrators and criminal justice agencies, the report is expected in late summer 2013.
Published 2 July 2012