Protecting the national environment and ensuring sustainable development for the Pacific Islands
Foreign Office Minister Jeremy Browne today declared the UK's intention to join the Secretariat of the Pacific Regional Environment Programme (SPREP).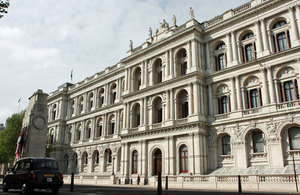 The Programme, originally formed in the 1980s, exists to promote cooperation across all Pacific islands, in order to protect the natural environment and ensure sustainable development.
There are currently twenty-one member countries, which include France and the United States of America. The UK's membership will emphasise its traditionally strong links, and is being announced as Jeremy Browne concludes his visit to Australia and New Zealand, where he has spoken at the Pacific Islands Forum (PIF):
"Climate change is an important issue that affects all people in all countries. Its environmental impacts threaten to undermine the prosperity and security of every nation. This is nowhere truer than in the Pacific countries, which are amongst those most at threat from rising sea levels.
"The British Government wants to help the world's most vulnerable people tackle climate change and deal with these problems, and today we have applied to become a member of the Secretariat of the Pacific Regional Environment Programme. This organisation is in a unique position to improve the way environmental issues are dealt with here, and I am pleased that Britain is playing its part. I look forward to seeing the positive outcomes of these new relationships, both in tackling climate change in the Pacific and in building closer ties with our partners in the region."
Published 9 September 2011