Press release
Protected species: new licensing system saves customers time and money
Natural England's changes to protected species licensing have led to £1 million of customer savings over the past 3 years.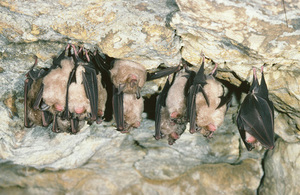 The range of innovative measures, designed to reduce both the volume of licence applications and the associated costs, marks a significant step by Natural England towards its goal of cutting red tape and creating a more efficient organisation.
Savings have been made chiefly via the introduction of an 'annexed licence'* system for works affecting bats, great crested newts and dormice – which has reduced the number of applications and subsequent rejections and reapplications; and a new 'class licence' - which has reduced applications for individual mitigation licences for low impact works affecting bats.
The drive to reduce red tape extends beyond saving money for smaller-scale customers. Organisational licences – removing the need for large organisations to apply for individual licences which can often result in costly last-minute project delays – are also being rolled out.
James Cross, Natural England's Chief Executive said:
This landmark saving for our customers is a key milestone on our journey to reduce regulatory burdens and improve real-world impact. We are saving customers time and money, providing a slicker, more efficient process, observing environmental law and achieving great things for nature.

Our organisational licences are a win-win for large organisations and for the environment, supporting economic progress, whilst ensuring that there is no impact on species conservation.

The changes to our system have the added bonus of reducing time spent by Natural England staff on advising and processing individual licences, meaning that we can usefully divert those resources elsewhere.
Network Rail organisational licence
Network Rail has been issued with an organisational licence authorising ecologists working on the upgrade to the railway between St. Pancras and Sheffield to capture and move great crested newts along the length of the railway, at any time of the year, during time-critical, low-impact works such as gantry installation.
Historically, the unexpected discovery of great crested newts and other wildlife has had a significant impact on the delivery of a scheme, incurring additional mitigation costs and delays to the programme. Previously the organisation had to apply for individual licences at each location where newts or other protected species were discovered. The new licence has allowed Network Rail greater certainty over programme delivery, as well as reducing costs – which can reach as much as £10-20,000 per night where unexpected delays are incurred.
Richard John, Network Rail Environment Manager, said:
This new system has considerably sped up the process of removing and relocating protected species which are found along the route, which has allowed investment work in the railway to be carried out more quickly. It has also meant significant savings for the public purse and, as a system, it means projects are less likely to be delayed by ecological factors.
Bat low impact class licence
The introduction of the new bat low impact class licence system has removed the requirement for individual bat mitigation licences at a site – saving the accompanying costs.
In general terms, class licences are a 'middle-way' between general licences and individual licences. Class licences do not follow the standard individual mitigation licence application, but users must be registered with Natural England and provide frequent reports. In the case of bat low impact class licences, once registered with Natural England, consultants can apply to register individual sites. Where licensing tests are achieved, low impact works can begin.
As a basis for this new licence, Natural England provided training workshops and mandatory assessments for existing bat consultants. Almost 70 consultants have completed the training so far, registering more than 94 individual sites. A second training round is currently underway, with the number of registered consultants expected to top 100.
Daniel Whitby, Consultant Ecologist at AEWC Ltd said:
The new system has provided consultants with the tools to submit simplified licence applications for sites where ecological impacts are lower and detailed assessments and mitigation are not always necessary. In turn, this enables us to provide a cheaper and notably quicker service to our clients – a benefit for all involved.
-ends-
Notes: *Annexed licences allow Natural England to contact licence applicants following submission and advise them of any issues within their application, which may be un-licensable. Once agreement has been reached, Natural England will provide a licence, subject to the agreed changes - which are detailed in an annex.
Published 8 October 2015