World news story
Prosperity Fund Programme, Stimulating Economic growth in Mexico
In 2013, the UK became the first G7 country to meet a longstanding commitment to spend 0.7% of Gross National Income on Official Development Assistance (ODA).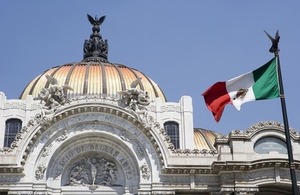 About the programme
In 2013, the United Kingdom became the first G7 country to meet a longstanding commitment to spend 0.7% of Gross National Income on Official Development Assistance (ODA). That commitment was enshrined in British law in 2015.
In November 2015, the British Government established a new and much bigger Prosperity Fund in Mexico that will reach up to £60 million in total over eight years (2015/16 – 2022/23), which was reaffirmed during the visit of Luis Videgaray, Mexican Foreign Secretary, to the UK in October 2017.
The main objectives of the programme are to:
Reduce poverty, improve gender equality and support inclusive economic development.

Produce greater opportunities for trade between our two countries.
Why Mexico?
Mexico is an emerging market, currently 15th largest in the world, and is growing - by 2030 Mexico will be the 9th largest economy in the world and the 7th by 2050 . There is a window of opportunity to support Mexico at a time of change, implementing strategic activities which will help alleviate poverty and develop commercial ties, strengthening the UK relationship with Mexico as it emerges as one of the world's leading economies; building a partnership that will further the UK's international political, security and economic priorities.
Activities
In Mexico, the investment through this bilateral programme may exceed £60 million up to March 2023 and will keep supporting four main areas: Anti-corruption and Rule of Law, Future Cities, Financial Services and Energy.
Anti-corruption and Rule of Law programme: Contribute to the consolidation of the Anti-corruption and justice systems by strengthening capabilities for detection and investigation of serious crime and corruption cases. It will work to improve policy, procedures and standards; improve coordination; and build capacity of public officials detecting to assist investigations into serious crime and corruption cases.

Future Cities: Support urban development in Mexico's cities, resulting in safer, resilient and more sustainable urban mobility services for citizens, particularly for women and girls. Our portfolio aims to tackle urban poverty through the promotion, development and implementation of strategies that promote an accessible and inclusive sustainable mobility services.

Financial Services: Deliver a more inclusive and competitive financial services sector, accessible to all segments of Mexican society and new market entrants. Given that the sector is highly concentrated, and over 60% of Mexicans do not have a bank account; our programme will aim to improve financial literacy in Mexico, and support the development of its Financial Technology (FinTech) ecosystem. Through this, we intend to allow for targeted, affordable and accessible financial services provision for men and women, resulting in increased levels of financial inclusion and a diversification of the market.

Energy: Support the consolidation of a solid and stable energy market that drives economic growth as well as increase access to energy services through lower electricity prices and creating formal employment opportunities to reduce poverty levels. The Strand aims to do this by accelerating the development of the necessary skills and capacity of men and women, small and medium-sized enterprises (SMEs) and regulatory agencies within the energy sector to boost productivity, inclusive economic growth and investment.
Further information
Contact us at kinmexico@fco.gov.uk Or visit the main Prosperity Fund Programme page
Published 15 November 2018