World news story
Promoting UK designers at International Contemporary Furniture Fair in New York
UK Trade & Investment US Consumer & Industrial Goods trade team assisted 46 design and interiors companies with their US market strategy.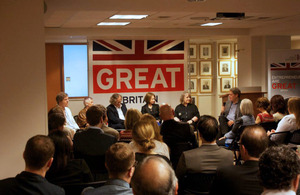 In conjunction with the British European Design Group (BEDG), UK Trade & Investment (UKTI) supported the visit and exhibits of the UK delegation to the International Contemporary Furniture Fair through financial support for their exhibits and travel to the US, and with an engaging program of informational and networking events on Monday, 20 May.
The program began with the annual UKTI US Market Briefing Breakfast which took place at the Consulate in New York. A panel of design industry experts discussed key issues that UK designers must consider to succeed in the competitive US market. The experts represented different parts of the design industry and spoke to their individual experiences to help the UK companies navigate the opportunities and challenges they will encounter in the US.
In the evening, UKTI co-hosted an industry networking reception at Ted Baker London on Fifth Avenue. This event provided an evening of networking between the UK delegation and local creative industry professionals
For more information about how UKTI supports UK interiors and homewares companies, please contact Kristie D'Agnes, UKTI Business Development Associate at kristie.dagnes@fco.gov.uk.
Published 30 May 2013