World news story
Promoting the UK automotive industry in Detroit
The Minister of State for Business and Energy will meet leaders in Detroit's auto industry alongside the SAE World Congress this week.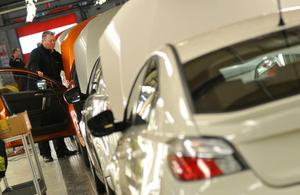 Minister of State for Business and Energy Michael Fallon will be in Detroit on Wednesday, 17 April and Thursday, 18 April to meet existing investors in the United Kingdom and highlight the significant opportunities in the UK auto supply chain.
While in the US, he will meet with senior representatives from Ford Motor Company, Gibbs Sports Amphibians, Penske Automotive Group and American Axle Manufacturing and other companies in the automotive supply chain.
On Wednesday evening Michael Fallon will speak at a reception hosted by the British American Business Council attended by members of the SAE World Congress.
The UK is a significant contributor to Michigan's economy, with UK companies like BAE Systems, GKN, Lotus Engineering and Ricardo employing more than 19,000 Michiganders. And major Michigan companies like Ford, GM, Dow, TRW, Lear, Penske and BorgWarner have substantial investments in the United Kingdom.
Michael Fallon will champion other mutually beneficial investments both with automakers and with companies down the auto supply chain. The UK's auto industry's comeback presents new opportunities for Detroit companies, with a 9% increase in car production in 2012 and car exports at record levels.
With new business key to job growth in both Michigan and the UK, Michael Fallon will urge support for the Transatlantic Trade & Investment Partnership (TTIP), which would remove tariffs and regulatory obstacles to trade and increase US auto sector exports by 59% and the EU's by 42%.
This growth would build on a robust trade relationship between the UK and Michigan, which exported $700 million in goods to the UK in 2012 and imported $740 million in return.
Published 17 April 2013