Promoting stability and normality in Georgia
Mat Whatley, from the UK Stabilisation Unit, shares his experiences of working in the EU Monitoring Mission in Georgia.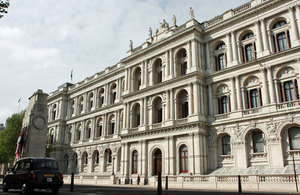 Mat Whatley is a Deployable Civilian Expert from the UK government Stabilisation Unit (SU). For the past two years he has been working in the EU Monitoring Mission in Georgia (EUMM).
In September 2008, responding to the conflict and its aftermath in Georgia, the EU agreed to deploy an unarmed civilian mission to monitor the Brussels-brokered peace agreements. In only two weeks, it deployed more than 200 monitors from 22 member states, the most rapid deployment in the EU's history. The EUMM, which has no executive powers, was given a mandate to provide stabilisation, normalisation, confidence building and objective information.
Whatley, a former British army officer with extensive experience on international missions, was deployed to Georgia by the International Secondments Team which today sits within the SU, co-owned by the Foreign Office, Ministry of Defence and the Department for International Development.
He was recruited as chief of operations in one of the four initial field offices, based in Bazaleti, north central Georgia. There are now three EUMM field offices, based in Mtskheta, north of the capital Tblisi, Gori in central Georgia and Zugdidi in the west.
"When we first arrived there were about five countries represented in each office, each with their own sort of radios, satellite phones, armoured vehicles and equipment so we had this funny mix of different coloured vehicles and uniforms"
Whatley recalls of the frenetic start to the mission. "Each office was given a piece of Georgia to look after and told to get on wth it."
Over time the composition of the teams and field offices settled down and became fully integrated and internationalised. Today the EUMM consists of around 330 staff from 26 EU member states. The UK contingent stands at 14, consisting of six police and eight civilians.
Whatley's initial role within the Field Office, Chief of Operations, akin to that of a chief of staff, was to coordinate the various office staff: reporting and information, security, logistics, communications and personnel, briefing patrol leaders and coordinating their deployments, and being ready to respond to incidents. During his time in Mtskheta, he sent out thousands of patrols.
After a little more than a year in Mtskheta, he moved to a newly created position of head of training in EUMM's headquarters in Tblisi.
"We identified very early in the mission that the monitors, who come from 26 EU member states and an incredibly broad range of backgrounds, would benefit from some training in operational skills to fulfil this highly demanding mandate," Whatley says. A comprehensive training programme would help bring a large measure of consistency to the mission's monitoring performance.
Prosecutors from Holland rub shoulders with Polish riot police, Italian carabinieri, French gendarmes and a host of other nationalities with different skills and backgrounds. The range of the monitors' duties is also extremely broad, involving police, military and humanitarian issues, together with regular reporting.
"The only tangible products from the mission are the weekly and monthly reports to Brussels, so it's important to get it absolutely right," Whatley explains. "The reporting must be well researched and credible. The patrols have to talk to the right people, develop the right relationships and understand the situation in which they are operating."
Whatley now heads a training department of three and says, aside from the excitement of the rapid deployment in September 2008 and an extremely hectic start monitoring the Russian withdrawal, this has been his most rewarding experience with the EUMM.
"Designing and delivering new training modules has been really worthwhile and testing. It's very high quality and interactive, with small groups, not PowerPoint and endless lectures. We give proper participatory training with demonstrations, scenarios and role-playing. The feedback we get from the monitors on the training is excellent. They love it."
Whatley describes the training role as "one of the hardest job I've done for a long time, immensely challenging and rewarding." Quite a statement when you consider where he has worked in recent years. He has been a DCE for several years and in the past decade has been deployed by the British government and the EU, OSCE and UN in Kosovo, Macedonia, Nigeria, Malawi, Sierra Leone, Bangladesh, Pakistan, Afghanistan, Iraq and now Georgia.
Conditions living and working in Georgia are good. "We get occasional power cuts, gas cuts and water outages but nothing serious. It's very Caucasus, in other words, nothing like working in Afghanistan or Iraq."
With two years experience in the EUMM behind him, Whatley says the country is moving forward very rapidly.
"Even in the time I've been here I've seen the changes. New roads have been built, the infrastructure is improving, good governance is on the rise with the removal of corrupt officials, shops and restaurants are opening up, more and more English is being taught in schools. The country really wants to be a part of the English-speaking world."
This article was first published on the Stabilisation Unit website
Published 20 July 2010