Press release
Promoting jobs, economic growth and diversification in the Overseas Territories
UK and Overseas Territories issue communiqué following Joint Ministerial Council.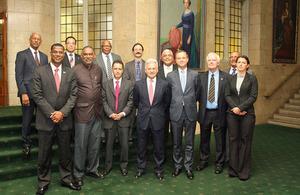 On 26 November UK Ministers and Overseas Territory leaders met at the annual Overseas Territories Joint Ministerial Council and agreed an ambitious communiqué setting out steps to promote further opportunities for business, trade and investment in the Territories.
The UK and Territory Governments also agreed to work together on education and training; green energy and the environment; developing stronger links with the wider world; international financial services regulation; governance and security issues.
Speaking after the meeting, Foreign Office Minister for the Overseas Territories Mark Simmonds said:
I was delighted to host this year's Joint Ministerial Council and greatly valued my discussions with the leaders of the Overseas Territory Governments. There was a real sense of progress towards our shared ambition for the Territories as vibrant and flourishing communities. We are working together to support economic growth and job creation and to demonstrate that the Territories are among the best places in the world to do business.
Further information
Read the Overseas Territories Joint Ministerial Council communiqué.
Get further information about the Overseas Territories Joint Ministerial Council.
Follow Foreign Office Minister Mark Simmonds on twitter @MarkJSimmonds
Follow the Foreign Office on twitter @foreignoffice
Follow the Foreign Office on facebook and Google+
Published 26 November 2013