Promoting Gender Equality and Women's Empowerment
The British Embassy held a press conference to showcase the excellent work done by TOSTAN and the Grand Mother Project in this field.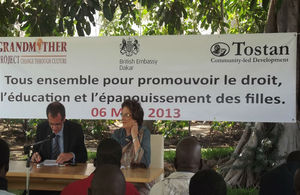 The British Embassy held a press conference to present, in the week the world celebrated International Women's Day, our support for the excellent work done by two NGOs to promote the rights, education and development of young girls in Senegal. Promoting gender equality and women's empowerment worldwide is a priority for the UK and this is why the British Embassy in Dakar, has chosen to support TOSTAN and the Grandmother Project.
To TOSTAN, we have provided funding for the printing of 38.000 booklets, in various local languages, outlining and depicting the 19 Human Rights and 14 Children's Rights. The objective of these booklets is to reinforce the knowledge local communities have gained during their participation in the three-year Community Empowerment Programme (CEP) run by TOSTAN, across the country, on what these Human Rights are and the importance of respecting them. This in turn energises learners, in particular women, to identify human rights affirming practices they wish to reinforce (for example the right to education, health, hygiene, information) and those harmful practices they wish to abandon (for example, Female Genital Mutilation).
The British Embassy is also providing funding to the Grandmother Project which aims to create a supportive family and school environment that enables adolescent girls to pursue their education by decreasing the risks of early marriage and teenage pregnancy through a strengthened relationship and collaboration between teachers, who play an important role for supporting girls' development and education and grandmothers – who are culturally designated and respected advisors to both adult and adolescent family members.
Published 23 March 2013