Promoting British interests in Africa
Minister for Africa Henry Bellingham is promoting British interests in Africa during a 10 day visit that will span five countries.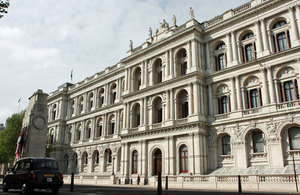 His visit started in Cote d'Ivoire, where he attended the inauguration of President Ouattara.
He then travelled to Ghana, where he met Ghanaian Parliamentarians and discussed reinforcing Ghana's success in good governance.
In Kenya, he discussed the UK-Kenya relationship with senior members of the Kenyan Government. Kenya is an important partner of the UK, the two countries have shared interests such as Counter Terrorism, piracy and regional security. The UK is also the biggest investor in Kenya.
Spending four days in Tanzania, the Minister for Africa is promoting British trade and investment in meetings with members of the Tanzanian Government. He will also deliver a speech to a British business group on the UK Government's prosperity agenda and attend a Commonwealth Eminent Persons Group event.
The final country he will visit is Nigeria.
You can follow all of our coverage of the Minister for Africa's visit on our map by clicking on the place marks on each of the five countries.
Published 27 May 2011