Press release
Projects win £196,000 for solutions to tackle online piracy and counterfeiting
Two innovative technology projects were today granted £196,000 by the Intellectual Property Office.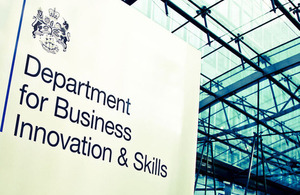 Two innovative technology projects were today granted £196,000 by the Intellectual Property Office (IPO) for designing solutions that will help tackle online piracy and target those who flout intellectual property laws. The projects will also help businesses better manage their digital products such as software, games and music.
whiteBULLET an intellectual property (IP) solutions company based in London, has been awarded £113,000 for designing a system which allows websites to be classified as low, medium or high risk in an IP Infringement Index. This will help users identify websites that are selling pirated goods or breaking IP law.
The University of Surrey has also been awarded £83,000 for designing a novel scheme for protecting digital media content.
Minister for Intellectual Property Lord Younger said:
The infringement of IP rights is an increasing problem for all and stifles honest business. The borderless nature of the internet also sets new enforcement challenges as websites offer access to pirated copies of films, music and software, as well as a wide range of counterfeit goods.
These projects provide creative solutions to technological problems and will assist growth in legitimate industries. I commend them on their work and look forward to seeing these projects in action.
The IPO competition is part of the Technology Strategy Board's Small Business Research Initiative which is a programme of open competitions for ideas and new technologies.
The IPO received 19 proposals from a range of businesses and academic institutions. The independent assessors chose the two strongest applications.
Notes to editors
For media queries, please contact Veena Mapara on 0207 215 5614.

For emergency media calls out-of-hours please contact the duty press officer at the Department for Business, Innovation and Skills on +44 (0) 207 215 3505.

The Intellectual Property Office (IPO) is within the Department for Business, Innovation, and Skills (BIS) and is responsible for the national framework of Intellectual Property rights, comprising patents, designs, trade marks and copyright.

Further information relating to the SBRI can be found at: http://www.ipo.gov.uk/sbri.htm.

The government's economic policy objective is to achieve 'strong, sustainable and balanced growth that is more evenly shared across the country and between industries'. It set four ambitions in the 'Plan for Growth' (PDF 1.7MB), published at Budget 2011:
to create the most competitive tax system in the G20
to make the UK the best place in Europe to start, finance and grow a business
to encourage investment and exports as a route to a more balanced economy
to create a more educated workforce that is the most flexible in Europe
Work is underway across government to achieve these ambitions, including progress on more than 250 measures as part of the Growth Review. Developing an Industrial Strategy gives new impetus to this work by providing businesses, investors and the public with more clarity about the long-term direction in which the government wants the economy to travel.
Published 27 March 2013