Project landmark reached at Culdrose
Defence Infrastructure Organisation (DIO) has passed a landmark in delivering key new buildings to support Royal Navy helicopter squadrons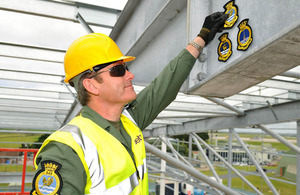 Working with regional industry partners Debut Services, DIO is delivering the second phase of a major construction project to provide new hangars and improved facilities for the four Sea King helicopter squadrons based at Culdrose.
A topping out ceremony took place for the new Sea King Airborne Surveillance and Control Squadron (ASaC) Hangar and support accommodation at the base.
Commanding officer 849 Naval Air Squadron Lt Cdr Chris Trubshaw, conducted the ceremony, which was attended by representatives from the MOD, DIO and Debut Services (South West) Limited, the Regional Prime Contractor in the South West.
I am looking forward to moving my squadron, along with our sister squadrons of 854 and 857 to their new improved home. The markedly improved construction and facilities can only promote efficiency in delivering our current and future Operational capabilities.
Construction work on the site started in August 2009 and along with this hangar will provide other key new buildings. These will include office and command accommodation, as well as engineering and maintenance areas.
DIO Project Manager Graham Martin said:
DIO's top priority is to support our Armed Forces in preparing for operations. I congratulate the delivery team for their excellent work to date and look forward to the completion of a successful end-product which the team can be proud of.
The first phase of the project to provide new facilities for 771 squadron completed in December 2010 and these are now occupied to great success.
The new buildings replace old demolished hangars and squadron office blocks that were no longer fit for use and provide better value for money in terms of energy efficiencies and improved working conditions. All new facilities are due to be completed by March 2012.
Paul Nix, Core Works Project Director of Debut Services, said:
Following the earlier delivery of the first hangar , this marks another major landmark in the delivery of this project. This is another example of Debut delivering large scale complex projects to DIO and the Royal Navy, working within financial constraints but producing high quality, sustainable buildings for the future.
We look forward to completing this second hangar early in 2012 and handing the Navy their completed facilities to suit their present and future needs
The Royal Navy's Sea Kings are due to be phased out of service by 2016, but the new hangars have been designed to handle the larger Merlin helicopters that will replace them.
Published 3 August 2011