Press release
Progress report of the UK reclassification platform
Publication of the first year's work of the UK stakeholders' reclassification platform.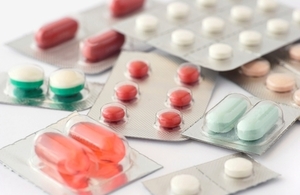 The platform has been established by the Medicine and Healthcare products Regulatory Agency (MHRA) to maximise healthcare professional and patient involvement in the reclassification of non-prescription medicines.
It will bring together representatives from the medical and pharmacy professions, representatives from the Department of Health and NHS England and patient representatives to consider strategic issues related to moving medicines from prescription only control to non-prescription availability (often called "switching"). This includes how to maximise stakeholder contribution to the consideration of candidate medicines and how to facilitate wider public engagement in this area.
Dr Ian Hudson, MHRA Chief Executive Officer said:
This platform will ensure that everyone has the opportunity to be fully involved in the process for switching medicines from prescription only to non-prescription availability.

MHRA is committed to widening access to medicines for the benefit of public health, when it is safe to do so.

We recognise that a key success factor in this process is support from all health professionals and patients to focus on the issues that matter to them.
The MHRA anticipates that this initiative will help to enable more medicines to be made available without prescription, either as a Pharmacy Medicine (P) or a General Sales List Medicine (GSL) through increasing engagement with patients and healthcare professionals in the switch process. So far the group has:
considered case studies to understand what success looks like
reviewed the public consultation process and made suggestions for change
developed thinking on how stakeholder groups could be convened
identified the optimal risk minimisation measures used in reclassification
considered how medicines available over-the-counter for the first time should be communicated to all interested parties
Background
Medicines and Healthcare products Regulatory Agency is responsible for regulating all medicines and medical devices in the UK by ensuring they work and are acceptably safe. All our work is underpinned by robust and fact-based judgements to ensure that the benefits justify any risks. MHRA is a centre of the Medicines and Healthcare products Regulatory Agency which also includes the National Institute for Biological Standards and Control (NIBSC) and the Clinical Practice Research Datalink (CPRD). MHRA is an executive agency of the Department of Health.

The Membership, Terms of Reference and minutes of the first three meetings of the UK Platform for Reclassification of Non-Prescription Medicines can be found here.

The report of the MHRA workshop on reclassification and good governance of non-prescription medicines, held in June 2014, can be found here.

Details about the reclassification process can be viewed here.

This platform was established following the report of the EU Platform on Access to Medicines Working Group on Promoting a Good Governance of Non-Prescription Medicines in Europe. This working group found that early involvement and engaging all stakeholders is a key factor for enabling patients to gain better access to non-prescription medicines
Media enquiries
News centre
MHRA
10 South Colonnade
London
E14 4PU
Email newscentre@mhra.gov.uk
During office hours: 020 3080 7651 (08:30 - 17:00)
Out of office hours: 07770 446 189 (17:00 - 08:30)
Office hours are Monday to Friday, 8:30am to 5pm. For real-time updates including the latest press releases and news statements, see our Twitter channel at https://www.twitter.com/mhrapress
Published 16 February 2016