Press release
Progress on Snitterfield bypass culvert work sees roads reopened
Work is being carried out to replace the Bell Brook culvert to improve the safety for residents living nearby.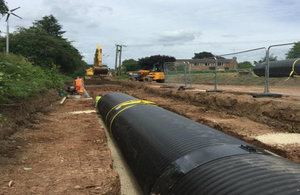 Another section of essential work by the Environment Agency and Warwickshire County Council to replace the Bell Brook culvert in Snitterfield, Warwickshire has been completed.
Now that this section of the work has been completed, Smith's Lane and Bell Lane have been reopened to public traffic. During construction Smith's Lane had to be closed to enable Warwickshire County Council's contractor to replace the section of the culvert that runs under Smith's Lane. Bell Lane had to be closed for safety reasons. To mitigate the impact of the road closures on the community the County Council and the Environment Agency worked together to undertake the works at Smith's Lane alongside the other essential culvert improvement works to minimise the road closure time.
Work in Snitterfield will continue over the next few months and is due to be completed by April 2017.
Michael Green, Warwickshire County Council Flood Risk Manager, said:
Warwickshire County Council is pleased to be delivering this project in partnership with the Environment Agency. We thank Snitterfield residents for their understanding during this disruptive stage of the Bell Brook, Snitterfield Bypass culvert scheme.
Emma Roberts, Environment Agency Operations Manager, said:
These improvements will dramatically improve safety for residents living near to the culvert and it's great that we have been able to work together in partnership with Warwickshire County Council to deliver this.
Notes to editors
The Environment Agency has been working closely with Warwickshire County Council to resolve the issues with the Bell Brook Culvert which runs through the village. Part of the culvert collapsed in January 2015 causing a large hole in a resident's garden. The Environment Agency carried out emergency works to make the culvert safe and then secured funding, with the help of partners, to make longer term the longer term improvements.
These longer term improvements include laying a new bypass culvert, stabilising the existing culvert along The Green, and replacing the culvert under Smith's Lane.
Published 20 December 2016