Progress and challenges for education in Afghanistan
Foreign Office Minister responsible for Afghanistan Alistair Burt today met Afghan Education Minister Farooq Wardak who is visiting the UK for the Education World Forum.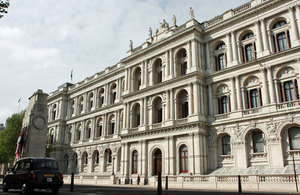 The meeting offered an opportunity to discuss Foreign Office Minister Alistair Burt's recent trip to Afghanistan and reflect upon his experiences and impressions.
Their meeting focused on education in Afghanistan, the progress that has been made and the challenges that remain. At present 6.2 million students attend school Grades 1-12, approximately 2.2 million of which are female. This is the highest number in the history of Afghanistan.
Minister Wardak is in the UK to attend the Education World Forum. The Education World Forum is a global seminar for Education Ministers and has previously been held annually under the title "Moving Young Minds". The theme for this year's event is 'Education for Economic success'. Participants will discuss, amongst other themes; technology and educational change, and strategies for higher education. The event will be attended by 320 representatives from 73 countries, including Ministers from 50 countries.
On the final day of the programme, Ministers will attend the British Educational Suppliers Association (BESA) trade exhibition at Olympia. Last year this event attracted 6,000 international visitors, and was a key starting point for contacts leading to large orders; for example, BETT played a significant role in delivering a £36million Veracruz skills and technology project. It is a real opportunity to promote excellence in the UK education sector and deliver the Prosperity agenda.
Published 11 January 2011