Press release
Programme to support fledgling exporters launched by trade minister
Francis Maude announces programme of expert advice and support to help companies expand into international markets for the first time.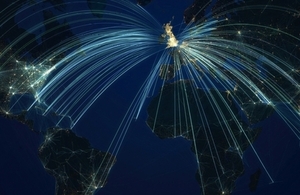 Minister for Trade and Investment Francis Maude has today (18 May 2015) announced a programme of expert advice and support, to help companies expand into international markets for the first time, to mark the beginning of Export Week 2015.
The First Time Exporters (FTE) initiative, which is run by UK Trade and Investment (UKTI), is a new package of support which includes training and advice for companies selling overseas for the first time. This includes the opportunity to take part in trade missions to nearby markets to help them develop their first contacts with foreign buyers. It also helps companies who are considering exporting for the first time, to take advantage of digital opportunities, offering dedicated digital trade advisers and an online tool designed to assist their export planning.
UKTI is the government department that helps UK-based companies sell overseas and assists overseas companies to bring investment to the UK. Last year UKTI supported nearly 48,000 companies, reporting additional sales of £49.1 billion.
Export Week, which is devised and led by UKTI, will see over 1,500 businesses taking part in 70 events UK-wide aimed at inspiring them to start their export journey or increase their international business. The varied programme will include practical workshops and masterclasses, exporting clinics with UKTI specialists and networking opportunities, as well as digital support services such as webinars and Twitter talks.
Potential exporters are also currently being offered an outstanding platform to showcase their business to the world and maximise their full potential in international markets at the Milan Expo 2015, which launched on 1 May 2015. The UK Pavilion has hosted around 100,000 visitors since launch. As part of UKTI's Grown in Britain global business programme, companies participating in Expo will be able to meet global buyers who have the potential to become valuable export partners. UKTI aims that business activity linked to Milan Expo will deliver £1 billion economic benefit to the UK over time.
Trade and Investment Minister Francis Maude said:
We hope that the launch of First Time Exporters will encourage more companies to take their first steps on the export journey and take advantage of the demand for British goods and services that exists overseas. With the Milan Expo bringing the world to our doorstep and Export Week just beginning, there has never been a better time for British businesses to realise their potential and find overseas customers.

Last year we saw 48,000 companies draw on UKTI support; these businesses went on to create or safeguard 220,440 additional jobs. I would urge businesses of all sizes to use this opportunity to find out more about the services that are available to them through UKTI, regardless of their level of exporting experience.
Notes to editors
1.Export Week enables businesses to access the knowledge and experience of experts from UKTI and its regional partners. Whether businesses are taking their first steps overseas, or are already established exporters, Export Week will equip them with the knowledge and tools they need to succeed in international markets.
2.Support is delivered by UKTI's regional International Trade Teams. Exporters will be assigned local UKTI trade experts to work with.
3.Help can include:
advice and support from a UKTI International Trade Adviser
help with developing an export strategy and action plans tailored to medium-sized businesses (MSBs) needs
guidance on routes to market most relevant to MSBs
advice on international business culture
access to UKTI's global network
advice on marketing research projects, including market selection and sources of information
support from UK Export Finance (UKEF)
4.First Time Exporters is a new programme to help businesses in the first stages of their exporting journey. The FTE initiative comprises of:
a new cadre of 100 International Trade Advisors (ITAs) for First Time Exporters. These ITAs will provide new or inexperienced exporters with training, planning and support to grow their business overseas. They will help companies to get started in international trade, assess their export capability and develop it further, give them help and support to select and visit potential markets and save time and money . Specifically companies will be provided with a flexible programme of support, including:

a detailed assessment of their readiness to export
an action plan for export activity
workshops on stages of exporting
help with market research and visits to target markets
event networking and tradeshow opportunities

Export Savvy: To help companies take the first steps in exporting we are also offering an online tool, called Export Savvy. This offers companies a short 6 module programme to help them understand the basics of exporting
Export Insight Visits: Export Insight Visits are trade missions that are part education part business. We take companies who are exporting for the first time to nearby markets where they are first made aware of UKTI's offer and what an Embassy can do for them and are then walked through their first contacts with foreign buyers. The aim is to have 4/5 visits each with 25 companies spread evenly across the year
Digital Advisers: In addition to the FTE cadre of ITAs a separate team of 20 e-Exporting/Digital Advisors are being recruited. These e-exporting/Digital Advisors will be fully integrated into the ITA teams and will help First time Exporters to access digital markets
Great British Store: This is a public/private initiative to provide a link between small, innovative UK producers and buyers, agents and retailers overseas. It will take the form of a website where UK companies can load a selection of their products that can be viewed by buyers in overseas markets
Global Events Programme: We are working on a new single integrated Global Events and Missions programme, bringing together the 3 current strands of Trade Access Programme (TAP), Events and Missions, and Events Alliance, to be introduced from April 2016
5.The UK is participating at the World Expo 2015 in Milan from 1 May to 31 October 2015. Feeding the Planet, Energy for Life is the core theme. 145 nations are participating including the UK's major political and trading partners. Milan Expo 2015 offers a global platform to promote UK international agendas and showcase British innovation, creativity and global leadership in the following core sectors and areas: Agricultural Technology (Agri-Tech), Creative Industries, Food and Drink, Healthcare, International Development (Aid-funded Business, Sustainability), Life Sciences and Technology.
The UK's participation theme for Milan Expo 2015 is Grown in Britain and Northern Ireland, led by UK Trade and Investment (UKTI) with support from 6 HM government departments. The stand-out UK Pavilion is inspired by the role of the bee in the global ecosystem and offers visitors a unique experiential journey. It also forms the platform for a 6 month global programme of UK business (Global Business Programme) and cultural events, linked to the challenge of feeding the planet.
6.UK Trade and Investment (UKTI) is the government department that helps UK-based companies succeed in the global economy. We also help overseas companies bring their high quality investment to the UK's economy – acknowledged as Europe's best place from which to succeed in global business. UKTI offers expertise and contacts through its extensive network of specialists in the UK, and in British embassies and other diplomatic offices around the world. We provide companies with the tools they require to be competitive on the world stage.
Published 18 May 2015