News story
Programme for Government: Universities and Further Education
This is a response to the public comments received on 'The Coalition: Our Programme for Government' on Universities and further education.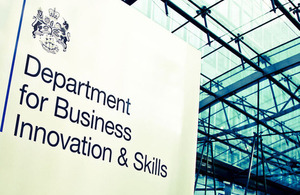 **The Government believes that our universities are essential for building a strong and innovative economy. **
We received a very large number of responses on polices related to Higher and Further Education in the consultation.
A large number of comments suggested that we abolished HE tuition fees, or did not raise them. The Government invests significantly in Higher Education but the current arrangements for higher education funding and student finance are such that they are not able to respond to the current financial climate. That is why the Independent Review of Higher Education Funding and Student Finance has been tasked with making recommendations on the future of fees policy and student support. We are keen to look at idea of a graduate contribution paid through the tax system. We have asked that this is considered as part of the review.
When the review reports in the autumn, we will judge its recommendations against the criteria set out in the Coalition Agreement: the impact on student debt; ensuring a properly funded university sector; improving the quality of teaching; increasing social mobility and attracting a higher proportion of students from disadvantaged backgrounds. We are committed to ensuring students get a fair deal and that any new system does not deter anyone from university irrespective of background.
Many respondents also felt that a target-based approach to increasing numbers participating in Higher Education was wrong. The Coalition Government's position is that we should not be setting targets (or indeed ceilings) on levels of Higher Education participation, and recognise that for many individuals vocational education in Further Education, studying part-time (perhaps as an adult and while employed) are better options.
The Government firmly believes that fair access to our most selective universities is an important part of opening up routes into the professions and social mobility. The coalition's programme for government makes clear that once we have Lord Browne's review of funding, its proposals will be judged against criteria which include increasing social mobility and attracting more students from disadvantaged backgrounds to Higher Education.
Links
Published 30 July 2010