World news story
Professor William Coaldrake honoured by The Queen
For distinguished service to the British Royal Collection, Majesty The Queen has appointed Professor Coaldrake to be a Member of the Royal Victorian Order.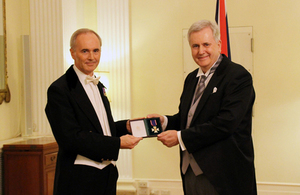 The Royal Victorian Order is the Personal Order of Her Majesty The Queen.
Professor Coaldrake has discovered a perfect scale model of the Taitokuin Mausoleum existed in the Royal Collection, having been shown at the Japan-British Exhibition at White City in London in 1910. He persuaded the Royal Collection to allow him to uncover and then document an unknown treasure in their vaults.
The Taitokuin Mausoleum model is open now to public as a symbolic connection between UK - Japan history at the Zojo-ji Temple in Tokyo.
Related Links
Magnificent model of Japanese architectural treasure returns to Tokyo
Published 14 October 2016