Press release
Professor Tony Butterworth CBE confirmed as Acting Chair of the NHS Institute for Innovation and Improvement
Professor Tony Butterworth CBE has been confirmed as Acting Chair of the NHS Institute for Innovation and Improvement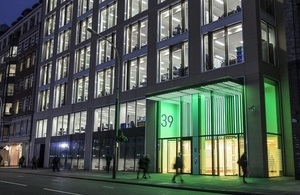 Professor Tony Butterworth CBE has been confirmed as acting chair of the NHS Institute for Innovation and Improvement.
As previous non executive director of the NHS Institute, Prof Butterworth has a healthcare background plus senior level management experience.
Health Secretary Andrew Lansley said:
"Professor Tony Butterworth has a track record of success and a passionate commitment to improving care for patients. I am delighted that he is bringing his expertise to this important role."
On his appointment, Prof Butterworth said:
"I am both honoured and pleased to have been invited to take up the post of acting chair of the NHS Institute.  This is a unique organisation and I am delighted to be working more closely with the hugely talented staff of the NHS Institute and their customers.
"Innovation and improvement have never been more important to the NHS and I intend to be a tireless advocate for both as we seek to make the necessary important changes for the future.
"It is an honour for me to follow in the footsteps of previous Chair Dame Yve Buckland whom I hold in the highest regard, for her work, her respect for our staff and her steadfastness in difficult times. I wish her well for the future." 
The NHS Institute for Innovation and Improvement's central role is to support the transformation of the NHS, through innovation, improvement and the adoption of best practice. It also supports the national approach to the NHS cost and quality challenge.
The NHS Institute is currently in the process of transforming into a new organisation that will no longer be an arms length body.  The new organisation will have a stronger commercial edge and will continue to support the quality and efficiency challenges facing the NHS.
ENDS
Notes to editors
For media enquiries please ring the Department of Health newsdesk on 0207 210 5221.
1. Prof Butterworth took up his post on 1 January 2012.
2. Prof Butterworth joined the NHS Institute as Non-executive Director in 2005, previously he was Chair of the Remuneration Committee and the lead Non Executive Director for the health professions. He was a point of reference for the work stream on 'Innovation and Improvement' modules and acted as a link with the University sector. Prof Butterworth has supported the Safer Care programme that helped to develop the NHS Institute's Improvement Faculty.
3. Formerly Prof Butterworth was Workforce Development Confederation Chief Executive in the NHS East Midlands. He is a registered general and mental health nurse and has had an extensive career in Higher Education, as Professor, Dean and Pro Vice-Chancellor at the University of Manchester.
4. As well as his work with the NHS Institute, Prof Butterworth holds the position of Emeritus Professor of Health Care Workforce Innovation at the University of Lincoln, and serves as trustee of charity Dementia UK. He also is a visiting Professor to the University of Maribor in Slovenia and the University of Western Sydney, Australia.
5. This appointment is made in agreement with the Commissioner for Public Appointments. All appointments are made on merit and political activity plays no part in the selection process. However, in accordance with the original Nolan recommendations, there is a requirement for appointees' political activity (if any declared) to be made public. Prof Butterworth has declared no political activity.
6. Prof Butterworth holds no other Ministerial public appointments.
7. The role is remunerated at a rate of £63,043 for around 3 days per week.
8. The NHS Institute for Innovation and Improvement's vision is to be an innovative and pioneering centre for healthcare improvement, building energy and enthusiasm for evidence-based change in England. Its mission is to enable and support the NHS system to transform health and healthcare for patients through a strategy of creating inventive, clinically-led and tested practical ideas which will build skills and capability for continuous improvement and support for leaders to drive real and lasting change.
9. Further information on the NHS Institute for Innovation and Improvement is available on the Insitute website.
Published 9 January 2012