World news story
Professor Peter Higgs is awarded the Nobel Prize for Physics
Fifty years after the theoretical discovery of the Higgs Boson particle, Professor Peter Higgs has been jointly awarded the Nobel Prize for Physics r. His contribution to science has earned him the 120th Nobel Prize granted to a British citizen.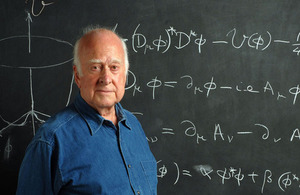 On October 8, 2013, the Nobel Institute announced that Brit Professor Peter Higgs and Belgian Scientist Francois Englert would share this year's award for Physics for their theoretical thesis on the so called Higgs Boson particle. Although this theory is close to being fifty years old, it was only last year that the Higgs Boson particle's existence was confirmed by the European Organization of Nuclear Research (CERN).
Higgs, who lived to see the validation of his theory at age 84 portrayed great modesty while commenting on the award and claimed that recognition should also be granted to all the scientists who supported and worked on this theory. The existence of the Higgs Boson was described by physics professor and member of the Nobel Prize Academy Björn Janson as "the most beautiful experiment ever done", adding that "both the theory and the experiment were incredibly impressive".
Prime Minister David Cameron congratulated Professor Higgs and stated that "his brilliant achievement is richly deserved recognition of his lifetime of dedicated research and his passion for science. It is also a credit to the world-leading British universities in which this research was carried out, including the University of Edinburgh, Imperial and Kings College London." He also highlighted the inspirational value of this discovery and the government's support for scientific research.
Higgs is not the only British citizen to receive a Nobel Prize this year. Professor Michael Levitt, holder of British, US and Israeli nationalities, has been awarded the Prize for chemistry for 'the development of multiscale models for complex chemical systems' to be shared with US scientists Martin Karplus and Arieh Warshel.
The UK has 77 Nobel Prizes in science and technology, second in the world and more than anywhere else in Europe. Professors Higgs and Levitt join the ranks of British scientists who have made advances that literally changed the world, such as Sir Robert Geoffrey Edwards who pioneered IVF, and Sir John Gurdon who was awarded the Nobel Prize in 2012 for stem cell research. Once again, the UK has proven its leading position in great scientific discoveries and innovation.
Published 10 October 2013