Professor Munro's review of child protection: analysis of the problems
Professor Eileen Munro identifies areas for improvement in her first report of the review of the child protection system in England.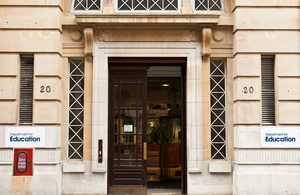 Professor Eileen Munro today set out her initial analysis on the child protection system in England. She finds that processes and procedures, and the unintentional consequences of previous reforms, are getting in the way of social workers spending time with vulnerable children and families.
The early scoping review explains that while previous reforms have been well-meaning and well-informed, they have not delivered positive long-lasting improvements at the front line. Changes during the past 40 years have been made in reaction to high-profile cases and have focused on parts of the system in isolation rather than looking at the system as a whole.
Professor Eileen Munro said:
I want to be clear from the start that there are no simple quick-fix solutions to improving the child protection system. A key question for the review is why the well-intentioned reforms of the past haven't worked. Piecemeal changes have resulted in a system where social workers are more focused on complying with procedures. This is taking them away from spending time with children and families and limiting their ability to make informed judgements.
Professionals should rightly take responsibility when things go wrong but they need more freedom to make decisions, more support and understanding, and less prescription and censure. Too often social workers are either criticised for breaking up families or for missing a case of abuse. But the system they work in is built around predicting a parent's ability to look after their child, which is never certain.
We need a system that constantly looks to do things better. Any solution must prioritise meeting the needs of children.
The problems identified by Professor Munro in the report include:
professionals too focused on complying with rules and regulations and so spending less time assessing children's needs
a target-driven culture meaning social workers are unable to exercise their professional judgement
too much emphasis on identifying families and not enough attention to putting children's needs first
serious case reviews concentrating only on errors when things have gone wrong, rather than looking at good practice and continually reflecting on what could be done better
concerns about the impact of delays in the family courts on the welfare of children.
professionals becoming demoralised over time as organisations fail to recognise the emotional impact of the work they do and the support they need.
Children's Minister Tim Loughton said:
I welcome Professor Munro's initial findings. She has started to expose the underlying causes of what has gone wrong in child protection. I have spent the last week shadowing social workers in an immersive exercise to see what happens at the sharp end. Social workers need to have the confidence to make tough decisions and make a positive difference.
Professor Munro wants to improve the serious case review (SCR) process so that lessons learned can be put into practice more effectively. The Government has published two research reports on SCRs today, which have fed into Professor Munro's review.
The research shows that
SCRs highlight important issues but there is a greater emphasis on getting the report right rather than learning the lessons
SCRs should look at good practice and not just when things go wrong
there is confusion and debate about what leads to an SCR as professionals are overwhelmed and struggle to make good decisions.
Related links
Munro Review of Child Protection - Part one
Serious case review: Research study report
Notes to editors
The first report of the Munro Review of Child Protection is published today and is available to download from this page.
The review was announced on 10 June 2010. Professor Munro is due to submit her final report in April 2011.
The review has been informed by a call for evidence that ran throughout July this year. Over 450 individuals/organisations submitted more than 1000 pieces of evidence to the review. Responses were received from those with a wide variety of expertise including social workers, children, young people, families, LAs, health professionals, the police, and lawyers.
The review is continuing to examine evidence in the following areas: * early intervention and prevention * front-line practice, including the experience and views of children and young people, guidance and judgment, ICT, and family courts * transparency and accountability, including inspection and performance management, serious case reviews and learning, media and public image
The SCR research is available from the associated resources section of this page.
DfE enquiries
Central newsdesk - for journalists 020 7783 8300
General enquiries - for members of the public 0370 000 2288
Published 1 October 2010