Press release
Professor Jane Elliott has been appointed as Chief Executive and Deputy Chair of the Economic and Social Research Council
Professor Jane Elliott has been appointed as Chief Executive and Deputy Chair of the Economic and Social Research Council (ESRC).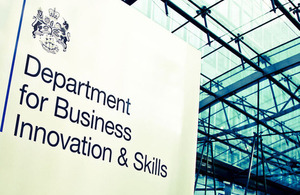 Minister for Universities and Science Greg Clark today (25 July 2014) announced the appointment of Professor Jane Elliott as Chief Executive and Deputy Chair of the Economic and Social Research Council (ESRC).
Greg Clark said:
I am very pleased to welcome Professor Elliott as the new Chief Executive of the ESRC. She brings to the post a range of strengths including an impressive track record in academia which will be key to her keeping ESRC at the forefront of world-class social science.
Professor Elliott said:
I am delighted to have been appointed Chief Executive of the ESRC at a challenging but exciting time for the social sciences in the UK. It is a wonderful opportunity to help maintain the excellence of our research and ensure that, wherever possible, the results of our work have a beneficial and tangible impact on people's lives. Many of the key challenges faced by our society require an interdisciplinary approach with strong input from the social sciences. I am therefore looking forward to working collaboratively with the chief executives of the country's other 6 Research Councils.
ESRC Chair Dr Alan Gillespie said:
I am particularly pleased to welcome Professor Jane Elliott as the new ESRC Chief Executive. She brings a distinguished track record in scholarship, research and management in the academic community and the leadership skills to take ESRC into its fiftieth year and beyond.
The appointment is for 4 years. Professor Elliott will take up her post on 1 October 2014 as the permanent successor to Professor Paul Boyle.
Notes to editors
1.Professor Elliott's appointment was made following an open competition.
2.Jane Elliott is Professor of Sociology, and Head of the Department of Quantitative Social Sciences, at the Institute of Education, University of London. She is also Director of the ESRC-funded Centre for Longitudinal Studies (CLS) which manages the 1958, 1970 and Millennium Birth Cohort studies, and has recently taken responsibility for the Longitudinal Study of Young People in England. In 2012 Jane became the founding Director of the Cohorts and Longitudinal Studies Enhancement Resources (CLOSER) programme. This collaboration between 9 studies aims to maximise the use, value and impact of the excellent portfolio of cohort and longitudinal studies in the UK.
Jane's main research interests include gender and employment, healthy ageing, and narrative approaches to combining qualitative and quantitative analysis. Her first book 'Using Narrative in Social Research: Qualitative and Quantitative Approaches' was published by Sage in 2005. Before joining the IOE in 2004 Jane was at the University of Liverpool and in 2002 to 2003 was a Visiting Fellow at Harvard University.
3.The ESRC funds research into the big social and economic questions facing us today. They also develop and train the UK's future social scientists. Their research informs public policies and helps make businesses, voluntary bodies and other organisations more effective. Most importantly, it makes a real difference to all our lives. The ESRC is an independent organisation, established by Royal Charter in 1965, and funded mainly by the government.
Published 25 July 2014