Press release
Professor Dilys Morgan, Public Health England, awarded MBE
Professor Morgan is recognised for services to health protection in the New Year's Honours list.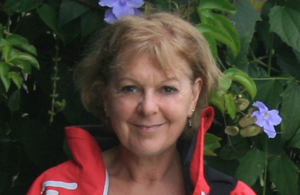 Professor Morgan is the head of the Department of Gastrointestinal, Emerging and Zoonotic Infections at PHE, a role she has occupied for 6 years.
A key success during her tenure has been the development of the emerging infections portfolio at PHE, and fundamental to this work has been the development of the Human Animal Infections and Risk Surveillance group of which she is chair.
The animal-human interface is where new threats to public health are expected to occur, and this cross-government group acts as a forum to discuss infections with a potential for interspecies transfer. Under her leadership the department has also produced a standardised rapid risk assessment tool for establishing the level of risk from new threats.
She has also worked for nearly 12 years in a variety of medical and public health roles in Uganda, Northern Iraq, Sierra Leone and The Gambia.
Speaking about her award Professor Morgan said:
I am absolutely delighted to receive this honour which reflects the hard work and commitment of many others besides myself over a great many years.

I have been very fortunate to have had an interesting career with many opportunities to work in public health in the UK and also to do medical research abroad, mostly in Africa.
Dr Paul Cosford, Director for Health Protection and Medical Director at PHE, said:
Everyone at PHE is very pleased that Dilys has been given this award as it reflects her contribution to public health not only in this country but around the world.

Dilys has done outstanding work establishing a multiagency plan for the detection and management of new and emerging threats which is a great achievement.
Ends
Notes to Editors
Prior to the establishment of PHE in April 2013 Professor Morgan worked for both its forbears: the Public Health Laboratory Service and the Health Protection Agency.

Dr Morgan is an Honorary Professor at the London School of Hygiene and Tropical Medicine. She is also chair of the Organising Committee for the Five Nations Health Protection Conference. It aims to provide a focus for continuing professional development for consultants in communicable disease control, consultants and specialists in public health medicine and their colleagues in the epidemiology and control of infectious, non infectious diseases and environmental hazards.

Public Health England's mission is to protect and improve the nation's health and to address inequalities through working with national and local government, the NHS, industry and the voluntary and community sector. PHE is an operationally autonomous executive agency of the Department of Health.
www.gov.uk/phe Follow us on Twitter @PHE_uk
Email: phe-pressoffice@phe.gov.uk
Published 31 December 2013