Professional rugby players get benefit of RAF training
Players and staff from Nottingham Rugby Football Club have visited RAF Shawbury to pick up a few tips on physical training and leadership to ensure they are as prepared as possible for the start of the new season.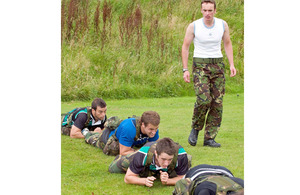 The First Division club visited the North Shropshire unit for a week of intense physical training, leadership exercises and liaison with station personnel. The training was designed to prepare the players for the new rugby season.
The players were given an overview of the types of training undertaken at the unit, and were told about the work of helicopter pilots and crews and air traffic control staff.
RAF personnel then gave the visitors a chance to try out the high ropes course and leadership exercises in the sports hangar and got them to try out the Bell 412 helicopter simulator.
The rugby players also completed a gruelling hour-and-a-half of battlefield physical training, including hill runs in full military web belts, before returning to the sports hangar.
The event was organised by Flight Lieutenant Andy Smailes, the Chief Ground Instructor of the Defence Helicopter Flying School, who is a keen rugby player.
He said:
Working with professional rugby players and staff was a fantastic experience for the whole of the station as well as the Physical Education Flight.
The players and staff of Nottingham Rugby Club got an excellent insight into the benefits of military physical and leadership training.
Most afternoons involved rugby training on the station sports pitches and the week ended with the team completing a military training exercise based on finding a downed pilot.
Published 25 August 2010