News story
Private finance is key to tackling climate change - Barker
UK Energy and Climate Change Minister Greg Barker and CEO of UAE's Masdar, Dr. Sultan Al Jaber, today announced a new roundtable for the world…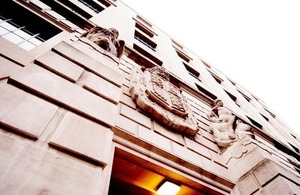 UK Energy and Climate Change Minister Greg Barker and CEO of UAE's Masdar, Dr. Sultan Al Jaber, today announced a new roundtable for the world's largest public and private sector investors in low carbon industries. The meeting, to be held in January during Abu Dhabi Sustainability Week, aims to scale up investment to combat climate change in developing economies.
Speaking at the Doha climate change conference, Minister Barker said:
"Alongside the formal negotiations taking place here in Doha, there's a formidable amount of informal discussion around how to mobilise at scale the private finance needed to tackle climate change.
"I'm excited to be announcing with Masdar our convening of the world's largest sovereign wealth funds and development banks to work on this important agenda in the New Year."
Masdar CEO, Dr. Sultan Al Jaber added:
"We look forward to working with the UK and relevant financial institutions during the Abu Dhabi Sustainability Week to identify mechanisms that will facilitate the deployment of climate change mitigation technologies such a renewable energy."
The meeting will take place during the Abu Dhabi Sustainability Week and alongside the annual World Future Energy Summit, dedicated to advancing future energy, energy efficiency and clean technologies.
The Abu Dhabi Sustainability Week will gather the public and private sector to collectively address the growing challenge of sustainable development.
Notes for Editors:
The meeting - planned to take place on 14th January 2013 in Abu Dhabi - will be jointly hosted by Climate Change Minister Greg Barker and Dr Sultan Al Jaber, Managing Director and Chief Executive Officer of Masdar.
Masdar is Abu Dhabi's multi-faceted renewable energy company advancing the development, commercialisation and deployment of renewable energy technologies and solutions. The company serves as a link between today's fossil fuel economy and the energy economy of the future. Backed by the Mubadala Development Company, the strategic investment company of the government of Abu Dhabi, Masdar is dedicated to the emirate's long-term vision for the future of energy. Encouraging private sector investment in developing economies to help scale up climate finance is a key aim for the UK .
The aim of the meeting will be to identify concrete areas of opportunity as well as workable solutions to removing the barriers to investing in climate mitigation projects. The meeting will also extend discussions that the UK has already initiated through the Capital Markets Climate Initiative with finance and investment institutions in the City of London.
 
Published 7 December 2012