Private Derek Derenalagi selected for the Paralympics
Five years ago, Private Derek Derenalagi lost both legs when he was injured in Afghanistan. Now he's been selected to compete with Team GB at the Paralympics. Report by Lorraine McBride.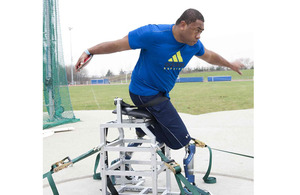 The amazing thing about paralympians is that they are not just extraordinary athletes, they have already triumphed in overcoming the most daunting of obstacles that life can throw at them.
Private Derek Derenalagi, from 2nd Battalion The Mercian Regiment (2 MERCIAN), lost his legs when an anti-tank mine exploded in Afghanistan, but now he is on the cusp of making his Paralympics debut in London 2012 competing in the F57 Discus event.
To those who know him, it is a miracle that he is here at all following the explosion that almost claimed his life. Five years ago, in July 2007, Private Derenalagi was on patrol in Helmand province with three comrades. Their task was to clear a site for a Chinook helicopter to land and Private Derenalagi was at the back of a Snatch Land Rover. He said:
We moved to higher ground for a better view of the area and I asked our driver to reverse so we could gauge any enemy action. But we rolled over a 44-gallon [167 litres] drum hidden underground filled with ball bearings, metals and six-inch [152mm] nails. When it exploded, I didn't realise I'd lost my legs.
Conscious throughout, a shard of metal ripped through his chin knocking out teeth, his left leg was blown away and his right leg hung by a thread below the knee:
I also fractured my clavicle, broke my spine, was bruised and cut my nose, but today I am so thankful that I still have my balls!" he added.
In the visceral blurry moments that followed, Private Derenalagi lay in mud choking on his own blood and convinced that his life was ebbing away. He felt overwhelmed with terror and prayed for his life:
I looked up to the sky and said 'dear Lord Jesus, if I am willing to use my life to inspire and motivate others, please give me the chance to live'.
Twenty minutes later, his prayer was answered when a helicopter airlifted him to a field hospital where doctors amputated what remained of his legs. He slipped into a coma and woke up nine days later in Selly Oak Hospital in Birmingham.
During his recuperation Private Derenalagi was drawn to Battle Back - an initiative that rehabilitates injured troops through sport - at a talent-spotting day at Headley Court.
It changed his life. He threw his heart and soul into shot put, discus, javelin, sitting volleyball, wheelchair rugby, swimming and archery, but was hooked on shot put and discus because they complemented his natural upper body strength.
Ask what disabled sport means and he says that competitive sport is the best medicine for any injury.
It is a sign of the leap in medical science that, just a decade ago, a double amputee had little chance of survival, whereas today triple amputees routinely survive:
Today in Afghanistan, they have fantastic facilities, doctors, nurses and medics and without them I wouldn't be here," Private Derenalagi said. "I was 'brown bread' and they prepared to put my body in a body bag.

I am so thankful to the medic who found a very faint pulse. He told the doctors and medics, and after operating they flew me over to the UK. He is still in touch with the head of the medical team now based in Queen Elizabeth Hospital Birmingham.
Asked if his injuries have changed him he said:
I'm still the same. I used to be cheerful all the time. It hasn't changed my outlook even though it changed my physical appearance. I'm still Derek Derenalagi.
Many paralympians feel this is the first Paralympics recognised as a major global sporting event in its own right, and Private Derenalagi is thrilled that the perception has evolved from worthiness to one of excitement and sporting excellence:
The Paralympics has changed in a big way," he said. "I watched the Paralympics in Beijing and it was fantastic. It has grown so much in four years. It doesn't just raise awareness of paralympians, but of disabled people all over the world, and I am so humbled to be part of it.
Private Derenalagi is pinning his hopes on the F57 Discus in the Olympic Stadium on 31 August. He is buoyant following his gold medal triumph in last month's European Championships in Holland where he beat Russia's paralympic champion:
That has given me confidence that I'll do well," said Private Derenalagi with a smile.
Private Derenalagi, 37, trains for seven hours a day at Lee Valley near Enfield. Now with just days to go until the Paralympics, he is champing at the bit:
I'm still on cloud nine," he said. "I just can't believe it because five years ago I lost my legs in Afghanistan, so to me it's like a dream come true. I'm honoured to represent Great Britain. From an athlete's point of view, to represent your country at the Paralympic Games or Olympics is the pinnacle of any career.
Does he ever experience dark moments?
I do and I don't pretend I'm super-human," he said. "Normally I look to the positive which keeps me cheerful. Another thing that really helps is my faith in God, especially in overcoming obstacles.
Private Derenalagi follows a super-healthy diet and sees a sports psychologist to instill a mental edge even though he radiates courage and guts in abundance, making him a natural role model to inspire other disabled soldiers.
He credits the British Army saying:
My regiment, 2 MERCIAN, and my CO [Commanding Officer] have given me fantastic support and it has been a great bonus for a serving soldier to be given time off to train for two years. I can't ask for more.

I want to thank the MOD and my regiment for supporting me to get where I am today. I'd like the whole Armed Forces to support me whether it's coming along to the Games or watching on TV. I just want your support.
What difference does it make to compete on home turf?
Massive, because I'll feel the buzz right behind me. I'll be able to hear people cheering me on and it will be shown live on TV. I can't wait," he said with heartwarming passion.

My regiment will provide security at some venues in London and it will be great to see them. I am not just representing my regiment - I am representing the whole Armed Forces and, of course, injured servicemen everywhere.
Please tell us what you think about government news on the web by filling in the short survey at Related Links.