Press release
Prison for waste land owner
Land owner Roger Frederick Phipps, aged 72, has today (Fri 11 Jul) been sent to prison for 6 months.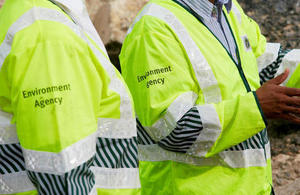 Chelmsford Crown Court activated part of a suspended sentence given in January last year for a waste offence after he was convicted of a further offence of breaching planning laws.
Phipps was sentenced in 2013 to 8 months imprisonment and ordered to carry out 180 hours unpaid work for allowing an illegal waste site to be run on his farm for years. He was also fined £15,000 for breaching 2 planning enforcement notices.
The prison sentence was suspended for 2 years.
Since then, the court heard, he has carried out the unpaid work but has yet to pay the court costs and fines. He also failed to remove the majority of the waste from the farm by 30 June 2014.
Michelins Farm, Rayleigh did not have a waste permit nor planning permission to operate the site and it was run without an environmental permit from April 2008 to 2011. The farm is on green belt land and is within a Landscape Improvement Area.
Fires
Mr Mark Watson, prosecuting at the earlier hearing, said that between December 2009 and June 2010 Essex County Fire Service attended 35 fires at Michelins Farm, mostly at night when thick black smoke was seen coming from the land.
Plastics, tyres, building materials and cylinders were seen in the fires. The fire service was concerned about the risk to adjoining highways, railways and power supplies.
Environment Agency officers carried out covert surveillance in May 2010 and saw lorries taking waste into the site and at the same time saw smoke regularly coming from the farm.
Officers also went to the farm with police in June following a large fire with a plume of black smoke that could be seen from the A127.
Ignored advice
Mr Watson said:
There was evidence that scrap metal had been removed from the fires and that other waste had been burned in breach of both environmental and planning rules.
Long windrows of burned material were found at the site as well as electrical, construction and plastic waste.
Judge David Turner said Phipps had been given every opportunity to comply with the law.
After the hearing Environment Agency officer Kelly Short said:
From photographs it is apparent that significant amounts of waste were taken onto site, stored, sorted and burned. The smoke caused a nuisance and in some cases could have harmed people's health.

Phipps knew he needed a permit to run the site but ignored our advice for years.
We continue to work closely with Rochford District Council to stop this site operating illegally.
Published 11 July 2014