News story
Priorities for 2013 and 2014 published by Public Health England
Public Health England (PHE), the nation's expert public health body, has set out its direction for the next year.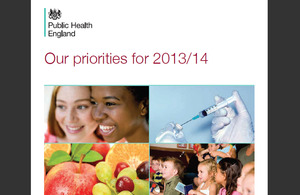 The priorities encompass the organisation's broad remit, ranging from protecting and improving the nation's health to building the public health system and increasing its own expertise.
In a foreword summing up the scope of work PHE will cover, PHE Chief Executive Duncan Selbie said:
"We exist to serve the public through the public health system, a system led locally by elected members where responsibility for the public's health sits alongside responsibility for jobs, housing and communities. This system is new – the combination of local government leadership for the public's health supported by an expert national body is a first for England.
"Our aim is to cement a reputation with local authorities for our credibility and expertise, as the foundation upon which PHE will help the new system to drive transformation."
PHE Chairman, Prof David Heymann, said: "We have listened carefully to those in the field, and to our Secretary of State and the leaders of local government, on where our priorities need to be. We can make early progress in some areas and in others it will take generations. The key is to get the balance right."
The priorities document will be the beginning of a conversation with PHE's partners about how to transform the public health system and create a genuine improvement in the public's health.
Published 26 April 2013