Princess unveils 'Heroes Wall' honouring three fallen soldiers from same school
Three soldiers who died in Iraq and Afghanistan will always be remembered by their former school thanks to a Heroes Wall unveiled by Her Royal Highness The Princess Royal last week.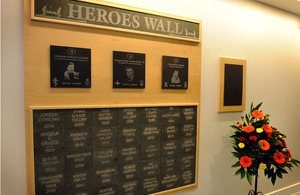 The brand new £18m Melior Community College in Scunthorpe was formally opened by Princess Anne, who toured the new buildings and met some of the 950 pupils.
The Community College, which caters for 11-16-year-olds, moved into the new buildings in June last year from two separate sites, replacing the Thomas Sumpter and South Leys Schools which amalgamated four years ago.
Three former pupils who attended the school are Corporal Bryan Budd VC, Corporal Ben Leaning and Craftsman Anthony Lombardi, who lost their lives in Iraq and Afghanistan.
The three soldiers' families and representatives of their regiments were invited to be present when the new Heroes Wall was unveiled, and to meet Princess Anne.
The idea for the Wall came from an aspiration to raise £10,000 for the Help for Heroes charity, and staff and pupils bought slate tiles with their names on them. Above these fundraising tiles are commemorative tiles to the three fallen soldiers to perpetuate their memory within the school.
Both Corporal Budd and his brother Stephen, who currently serves in the Army as a Warrant Officer (WO), attended Thomas Sumpter School - one of the schools that make up the new college:
The Princess asked about the idea behind the Heroes Wall and met the whole family," said WO Budd.
"It is the first time that I have met her and it is nice of her to do this kind of event and support the military and their families."
Corporal Budd, who grew up in Scunthorpe, was serving with 3rd Battalion the Parachute Regiment (3 PARA) when he died aged 29 as a result of injuries sustained during a fire fight with Taliban forces in Sangin, Helmand province, in 2006. He was later posthumously awarded the Victoria Cross.
His family were accompanied to the unveiling of the Heroes Wall by representatives from 4th Battalion The Parachute Regiment (4 PARA) based in Pudsey, near Leeds:
The school contacted us about two years ago to say that they wanted to do this," said Mr Trevor Girdham, Corporal Budd's stepfather. "It has been a good day and the plaque is a nice tribute.
Her Royal Highness also met the family of Corporal Ben Leaning, who were accompanied by members of the Queen's Royal Lancers, the regiment he served with in Iraq.
Corporal Leaning was in a Scimitar armoured reconnaissance vehicle when it hit an improvised explosive device in Maysan Province, Iraq, on 19 April 2007. The explosion killed him and another trooper and injured the gunner and another two soldiers:
The regiment went above and beyond the job description in what was done for me after I lost Ben," said Tracey Hazel, Corporal Leaning's mother. "There is a good contingent of them here today and it means a lot to me.
"The Princess Royal was lovely and asked if we were local. All my family and all Ben's dad's family went to Thomas Sumpter School and I even remember a couple of the teachers today. It is good to see the plaque on the wall and know that Ben's memory is being kept alive here."
Craftsman Anthony Lombardi was serving with the Royal Electrical and Mechanical Engineers (REME), attached to the Light Dragoons, when his Spartan light tank was caught in an explosion in Babaji, Helmand province.
A former pupil of South Leys School, Craftsman Anthony Lombardi was aged 25 when he died in 2009. His parents Walter and Helen, accompanied by his brothers Stephen, 28, and Robert, 16, met the Princess Royal:
Robert is hoping to join the Army and be in the REME, which he wanted to do before Anthony was killed," said Helen. "I don't want to hold him back - I will cope with it.
It has been a good day. I have a prototype of the plaque at home as well. Anthony's aunt, Chris Cox, and myself went to Thomas Sumpter School and it has been good to see the new college.
The Princess was shown around the College and met members of the staff and pupils. She also unveiled the plaque, formally opening the school, and signed the visitors' book.
The Principal of Melior Community College, Mrs Angela Briggs, said:
It is highly unusual that we have three ex-pupils who died serving their country and as a school we could not let this slip by unnoticed. Now we have the Heroes Wall we know they will never ever be forgotten. As new children come through the doors they will ask about those former pupils and what they did for their country.
Published 23 January 2012