Princess Royal visits former first foreign Moscow mission
The Princess Royal, Princess Anne, visited the Old English Court – one of the oldest secular buildings in Moscow and the first home of the United Kingdom mission to Russia.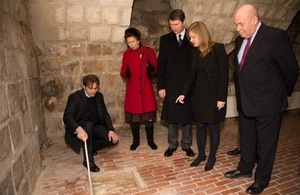 Twenty years ago Her Majesty Queen Elizabeth opened a Moscow Museum in this building which illustrates the strong ties between the UK and Russia.
Alina Saprikina, Director of the Museum, took Princess Anne to see the Museum which is currently under reconstruction and plans to open its doors in 2015 with a new interactive exhibition which will be a part of the UK-Russia Year of Culture.
During the tour the Princess Royal was accompanied by Mr. Mikhail Shvidkoy, the Russian President's special envoy for International Cultural cooperation.
Guests discussed the history of cultural cooperation and noted the importance of the 2014 UK-Russia Year of Culture. This Spring the Old English Court will host an exhibition "Moscow and London. Reflection. 1914-2014" in conjunction with the London Museum.
Published 14 February 2014