News story
Princess Royal attends naval cadets' passing out parade
Her Royal Highness The Princess Royal has attended a parade performed by cadets passing out from Britannia Royal Naval College (BRNC).
The Princess Royal, accompanied by her husband, Vice Admiral Sir Tim Laurence, was the guest of honour at BRNC's final passing-out-parade of the year.
As the rain eased off, and with the Royal Marines band playing festive tunes, the Princess Royal was invited to inspect the cadets and take the salute during the march past.
The parade signified the end of 30 weeks' intensive training for the 67 Officer Cadets who can now enjoy Christmas with their families before embarking on the next stage of their Royal Navy careers. Among those passing out were cadets from 10 overseas nations who regularly send their personnel to BRNC for training.
Commanding Officer of BRNC, Captain Jerry Kyd, said:
We were very honoured to have Her Royal Highness visit us for our final parade of the year. These cadets have been given a thorough induction into the Royal Navy and worked hard to earn their place on the parade ground.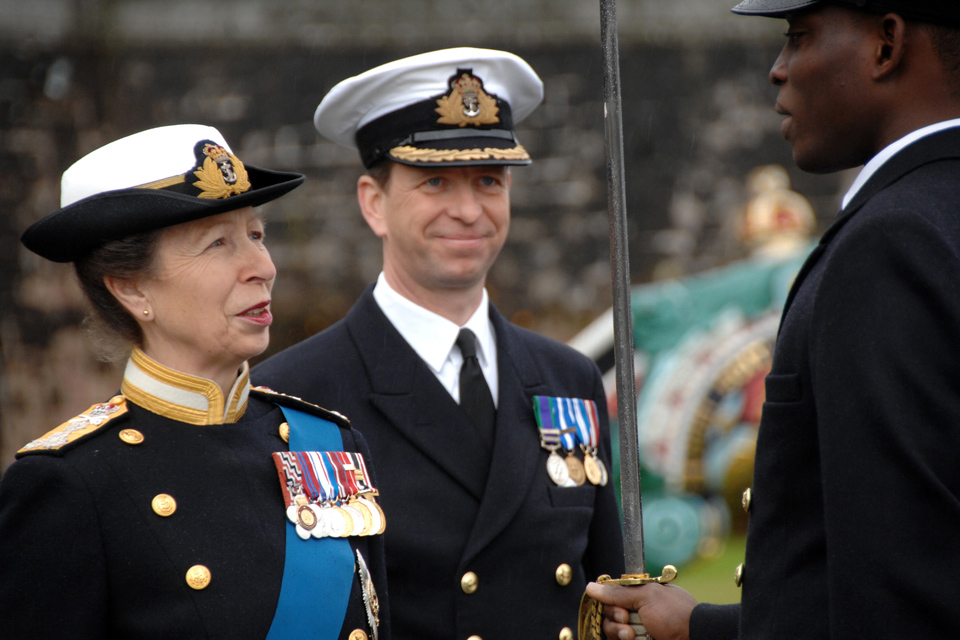 They spent the last 9 weeks of their training at sea. Some were assigned to HMS Illustrious, while others were on board the fleet flagship, HMS Bulwark. Both warships were involved in the Royal Navy's Cougar 12 deployment working as part of the UK's Response Force Task Group, exercising with a multitude of other nations in the Mediterranean.
This was an excellent opportunity for the cadets to see at first hand the Royal Navy in operation, working in partnership with our allies.
The Princess Royal has a long association with the Royal Navy. She holds the rank of Admiral as Chief Commandant for Women in the Royal Navy and has special relationships with HMS Talent and HMS Albion. The Princess Royal is also Commodore-in-Chief for Portsmouth and last attended a parade at BRNC in 2002, when she represented Her Majesty The Queen at the Lord High Admiral's Divisions.
In total 237 BRNC staff and cadets at varying stages of their training were on parade, with music provided by the Band of Her Majesty's Royal Marines Plymouth.
After a period of leave, the College will reopen in January 2013 for what will be the 150th year of Royal Navy officer training in Dartmouth.
Published 20 December 2012