News story
Princess plants last tree at Army's new wood
The Princess Royal recently planted the final tree at Loggy's Diamond Wood at Prince William of Gloucester Barracks in Grantham.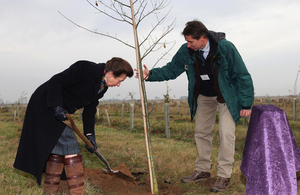 The Diamond Wood project sees the Defence Infrastructure Organisation (DIO) and the Woodland Trust teaming up with soldiers at Prince William of Gloucester Barracks to plant woodland.
The Princess Royal planted the last of 88,000 trees in the new 70-hectare woodland. As well as providing valuable forest cover for military training exercises, Loggy's Diamond Wood marks the Queen's Diamond Jubilee in 2012.
DIO senior forester Jon Watson said:
Supporting our armed forces is the top priority for DIO. We're delighted to continue our partnership with the Woodland Trust and respond to military training needs in providing woodland cover to benefit soldiers preparing for operations.

This excellent initiative at Grantham allows us to continue to improve training facilities, whilst securing significant conservation and environmental benefits at no extra cost to the Ministry of Defence. It also provides a magnificent and enduring celebration of the Queen's Diamond Jubilee.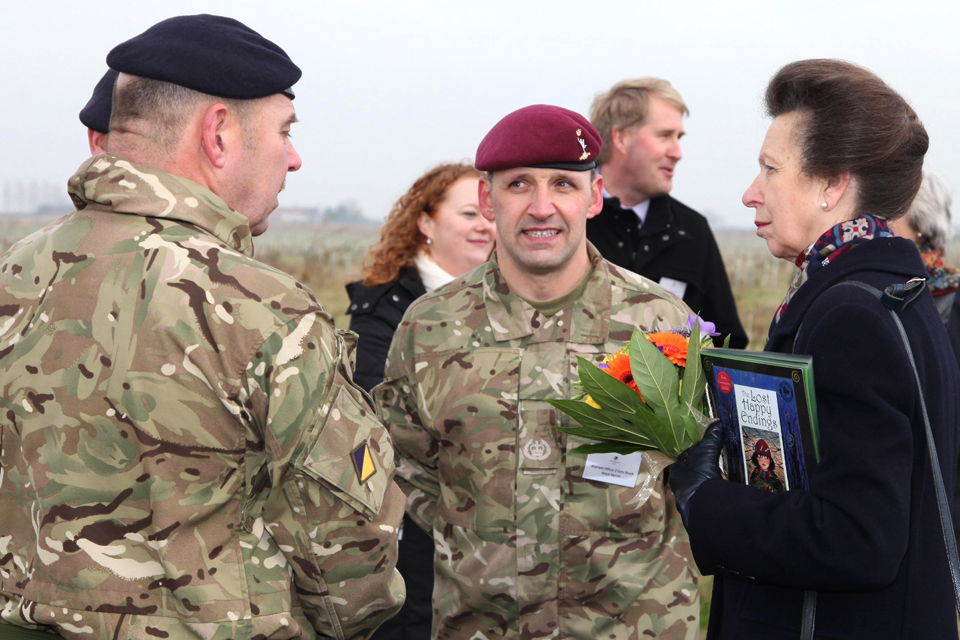 During the Jubilee Woods project the Trust planted over 6 million trees. This created hundreds of new woods across the UK, which is one of the least wooded countries in Europe. Just 13% of the UK is woodland compared to 44% on the continent. The Trust has the aim of doubling woodland cover by 2050.
Lieutenant Colonel Bob Brown, Station Quartermaster at Prince William of Gloucester Barracks, added:
The Diamond Wood will see thousands of hectares of woodland planted to help British soldiers train more effectively for military operations, whilst helping towards the Trust's target of doubling native woodland cover in the UK.
Planting woods will help create valuable habitats for some of the nation's endangered species. Research by the Woodland Trust has shown that new woodland provides habitats for several red-listed bird species and is a valuable tool for promoting diversity in the UK.
John Tucker, Woodland Trust Director of Woodland Creation, said:
Woodland protection and safeguarding comes hand-in-hand with woodland creation; it's important to protect what precious woodland we have, restoring damaged woodland whilst creating more for the future.

The best way to ensure our woodland and woodland species deal with threats is to create stronger, more resilient landscapes by planting more native trees and diverse woods.
The planting in Grantham has recently been given a boost thanks to a £20,000 grant from the SITA Trust which will cover the planting of over 12,000 trees, and the Alcoa Foundation, who have contributed £37,000 to cover the planting of over 17,000 trees as part of their 'ten million trees' global tree-planting appeal.
Other funders include Enterprise Rent-A-Car, the Forestry Commission, Lincolnshire County Council and the armed forces community covenant.
Published 3 January 2014