Prince William takes up duties in the Falklands
Flight Lieutenant Wales has commenced his duties as an RAF Search and Rescue (SAR) helicopter co-pilot in the Falkland Islands providing SAR cover for both the civilian and military population.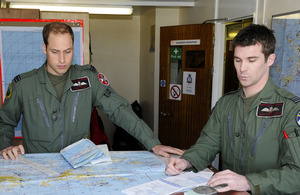 Flight Lieutenant Wales is part of a four-man crew providing SAR cover for a six-week deployment. His role is to operate as a Sea King co-pilot, a post he has held at RAF Valley in Anglesey since qualifying.
His first shift involved briefings on the unique and challenging flying environment of the Falkland Islands and familiarisation with the location and the job he is to perform.
The Officer Commanding Search and Rescue, Squadron Leader Miles Barnett, said:
A posting to operations in the Falklands is a vital part of the career progression for a Search and Rescue pilot. The experience they get here is second-to-none. It is a challenging and varied job providing an essential capability to the military and the Falkland Islands population.
This detachment to the Falklands offers Flight Lieutenant Wales excellent experience and training opportunities to develop his career as a SAR pilot. SAR crews have to contend with a variety of challenging conditions as the weather on the islands is often changeable and a significant number of the population live in very remote and rugged areas.
Whilst SAR remains their primary responsibility crews can be expected to complete a multitude of challenging tasks including rescuing fishermen from trawlers, taking seriously ill patients to hospital, putting out peat fires or dropping off vital supplies to the isolated areas of the islands.
Flight Lieutenant Wales has deployed purely in an RAF role and will not be completing any ceremonial roles as the Duke of Cambridge during his deployment to the Falklands.
A six-week deployment to the Falklands is conventional for SAR pilots at this stage of their career.
In order to ensure that Flight Lieutenant Wales can focus on his operational duties, the MOD will not be providing a running commentary on this routine deployment.
Responding to questioning by the media on Sunday about whether the Argentinians have a point that Britain seems to be being pretty provocative about celebrating the 30th anniversary of the military campaign to reclaim the Falkland Islands from Argentina by sending a warship, a nuclear submarine and Prince William there, Foreign Secretary William Hague said:
Of course our ships regularly visit the South Atlantic - we don't normally make any comments on the deployment of our submarines but our naval vessels regularly visit the South Atlantic. Prince William is also on a routine deployment that is part of his job.
Published 6 February 2012