Prince William appointed Colonel of the Irish Guards
Her Majesty The Queen has given her formal approval to the appointment of His Royal Highness Prince William as Colonel of the Irish Guards.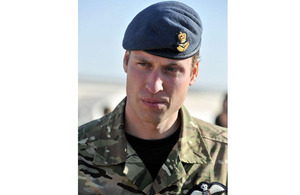 The second-in-line to the throne, who already holds honorary roles within the RAF and the Royal Navy, will take a close interest in the lives and activities of Irish Guards personnel.
In his first honorary appointment in the Army, Prince William has become the regiment's first Royal Colonel and will take over from Major General Sir Sebastian Roberts. The Queen is the regiment's Colonel-in-Chief.
In 2006, Prince William was made Commodore-in-Chief of Scotland and Commodore-in-Chief of Submarines, and two years later was appointed Honorary Air Commandant of RAF Coningsby.
The Prince is also a fully operational Search and Rescue pilot in the RAF, having graduated on 17 September 2010.
The Irish Guards were formed in 1900 by order of Queen Victoria and are based in Victoria Barracks, Windsor. The battalion is made up of five companies and a variety of supporting elements.
The unit is heavily involved in ceremonial duties, but its personnel are also fighting soldiers who are currently serving in Afghanistan.
Published 11 February 2011