Prince Philip visits Queen's Royal Hussars before Helmand deployment
His Royal Highness Prince Philip, The Duke of Edinburgh, visited the Queen's Royal Hussars (QRH) in Germany last week as they finalised preparations for their upcoming deployment to Afghanistan.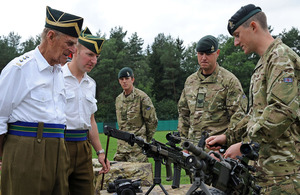 Prince Philip, who is the Colonel-in-Chief of the QRH, was greeted with a Royal Guard of Honour and a performance by the Pipes and Drums before meeting with members of the regiment to discuss their deployment to Afghanistan in October 2011 and the welfare of those family members who will be left behind.
He spent nearly an hour inspecting military equipment and talking to soldiers before moving on to a specially arranged reception in which he met soldiers' families and presented three members of the regiment with their Long Service and Good Conduct Medals.
Lieutenant Colonel Ian Mortimer, Commanding Officer of the QRH, said:
I am absolutely thrilled that His Royal Highness The Duke of Edinburgh could visit the Queen's Royal Hussars and meet the soldiers and families of the regiment, especially before the regiment deploys on Op HERRICK 15.
His visit is a great morale-booster for us all, as we look forward to a demanding six months in Helmand. I hope that we will be able to tempt him to come and present campaign medals on our return.
During his visit the Duke of Edinburgh saw a series of military stands in which members of the regiment showed off the Mastiff, Jackal and Husky armoured and protected vehicles, a variety of weaponry - including heavy machine guns, their new uniforms, and other equipment they will be using during their tour.
Prince Philip also presented an Afghanistan campaign medal to Corporal Jonathan Beechey for a deployment which actually happened three years earlier.
Corporal Beechey, aged 22, who serves with the Royal Electrical and Mechanical Engineers and is currently attached to the QRH, had waited since 2008 to receive his Afghanistan medal for a tour he completed when he was attached to 2nd Battalion The Royal Regiment of Scotland.
Shortly after his return from Afghanistan he was posted to a new unit before his medal arrived and then moved onto another new post while his medal was again in transit, before it caught up with him at the QRH.
But Corporal Beechy, who is responsible for repairing and maintaining weapons and will again deploy to Afghanistan with the rest of the QRH, said that the wait was worth it:
I only found out that I would be getting my medal from our Colonel-in-Chief just two days before, it was a real shock," he added. "I wasn't sure I'd ever get my medal and never dreamed it would be from the Duke of Edinburgh. My nan will be very proud when she finds out as she's a big fan of the Royal Family.
It was a great honour - I was nervous with everyone watching, but he was very friendly and asked about my job and where I had served before. The interest he took in all the guys and how they are preparing for their deployment was great.
It is fantastic that he could take the time out of his busy schedule to come and visit his regiment here in Germany.
At the end of his visit Prince Philip was given another Royal Guard of Honour before leaving for his flight back to the UK.
Published 3 August 2011