Prince Philip honours REME soldiers for work in Afghanistan
His Royal Highness The Duke of Edinburgh presented personnel of the Royal Electrical and Mechanical Engineers (REME) with their Afghanistan campaign medals yesterday.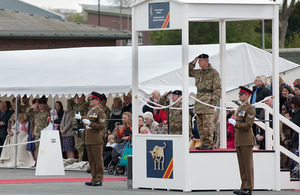 Personnel from 3 Close Support Battalion REME recently returned from a demanding six-month deployment in Afghanistan.
During their tour, which took place between September 2011 and April 2012, soldiers from the battalion provided vital technical and engineering expertise in support of the NATO-led mission to prepare the Afghans to fully take over the security of their own country.
Prince Philip, who is the Colonel-in-Chief of the Royal Electrical and Mechanical Engineers, presented medals to members of the battalion during a ceremony at Barker Barracks in Paderborn in northern Germany before meeting military personnel and their families at a specially arranged reception.
Addressing the soldiers during the parade, Prince Philip expressed his pride at presenting them with their campaign medals and paid tribute to the support of both their families and the Rear Operations Group.
During their deployment 3 Close Support Battalion, which is a part of 20th Armoured Brigade, was responsible for the provision of repair, recovery and general electrical and mechanical engineering support to all British land-based units across Afghanistan.
This included working on a variety of equipment and machinery, which ranged from heavily armoured vehicles and weapon systems to surveillance equipment and radios, often operating in hazardous environments and coming under fire from insurgents.
Craftsman James Lough, aged 21, a combat vehicle mechanic, was one of nearly 300 members of the battalion to deploy to Afghanistan. He said:
It was a really proud moment receiving my medal from the Duke of Edinburgh. It is great that someone like him can take the time out to travel all the way to Germany to present us with our medals.
During my tour I was based at Camp Bastion but regularly travelled to forward locations on combat logistic patrols as a mechanic and sometimes also as top cover manning our vehicle machine gun. Our main job was to recover damaged and broken down British Army vehicles from the field.
We were not worried about going into these areas even though we knew there might be insurgents operating there. We did come under contact during one patrol but we were very well protected and never got into a situation where we needed to return fire.
The parade, which was watched by the families and friends of the REME personnel and included a performance by the Band of the Prince of Wales's Division and a specially arranged Royal Guard of Honour for Prince Philip, was a proud moment for the battalion's Commanding Officer, Lieutenant Colonel Simon Holford.
He said:
This medal parade marks the end of our deployment to Afghanistan and we are honoured to receive our Colonel-in-Chief His Royal Highness The Duke of Edinburgh.
Our tour on Op HERRICK 15 involved a wealth of military and technical challenges throughout the deployment. The battalion's soldiers have embodied both the Corps motto of 'Soldier First, Tradesman Always', as well as the battalion's mantra of 'Repair Anything, Anywhere', to deliver outstanding success.
These achievements were ably supported by the Rear Operations Group who remained in the home base providing vital support.
We are extremely fortunate to share this occasion with our many friends, family and loved ones. They have been a constant support to us all. Quite simply, we could not have done it without them, and for that we are forever grateful.
Now safely home after their tour the men and women of the battalion will enjoy a period of well-earned post-tour leave before returning to their base to begin training for their next potential mission.
Published 25 April 2012