News story
Prince of Wales visits injured personnel
The Prince of Wales made his traditional pre-Christmas visit to the Queen Elizabeth Hospital Birmingham to meet injured military patients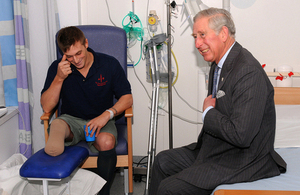 Prince Charles was greeted by Dame Julie Moore, Chief Executive of University Hospitals Birmingham NHS Foundation Trust, which runs the hospital, and Commander Alison Hofman, Commanding Officer of the Royal Centre for Defence Medicine, which is based at the Trust.
On his way through the main entrance, the Prince stopped to chat to members of the public visiting the hospital before making his way up to 2 of the wards to speak to servicemen and their families.
Marine Adam Coatsworth, a member of Hasler Company, a unit which specialises in the recovery, rehabilitation and re-integration of injured marines, said:
It was a great pleasure to meet His Royal Highness. He genuinely supports the work we do and it was lovely for him to take time out of his busy schedule to visit us and the staff who care for us before Christmas.
Dame Julie said afterwards:
It's always a pleasure to welcome Prince Charles to the Trust; and especially during the festive season. His time, attention and personal interest in the care we give to injured troops means so much to them, their families and our staff.
Published 20 December 2013