Prince of Wales views new A400M military aircraft
Visit by His Royal Highness the Prince of Wales to view new A400M military aircraft highlights UK/Spanish collaboration on world-leading, high-technology manufacturing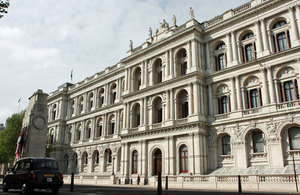 The UK's role as one of the world's leading countries for high-tech manufacturing and advanced engineering, and the extensive collaboration between British and Spanish high-tech companies, are today highlighted by His Royal Highness the Prince of Wales' visit to see the new Airbus A400M military transporter aircraft in Seville.
The Prince, a trained pilot and formal naval officer, will meet some of more than 100 British and Spanish engineers and test pilots who are based at the Airbus plant in Spain, and will have the opportunity to see inside the aircraft.
The UK and Spain are key partners in the Airbus consortium, which also includes France and Germany, and the A400M is being assembled and tested in Seville.
The most complex parts of the aircraft are the wings and engines, both of which are built in the UK. The wings are produced at Airbus' Broughton complex in North Wales, while the engines are developed by Rolls-Royce, a world leader in aircraft technology, in conjunction with ITP of Spain, Snecma of France and MTU of Germany.
The UK is one of the world's leading countries for high-tech manufacturing and services. The defence and security industry employs some 300,000, more than 20% of whom work in exports. More than five thousand UK advanced engineering companies export their goods and services.
HM Ambassador to Spain, Giles Paxman, said: "The UK is home to some of the world's most innovative companies and best engineering expertise. It is a natural place for Spanish businesses seeking partners, or wanting to invest. Our two countries already work together in Airbus, and Britain is keen to partner with Spanish experts to develop and produce high-technology services and goods for the world's markets."
In addition to collaboration between Rolls Royce and ITP in the military and civil aircraft fields, other British and Spanish companies are also working together on the Typhoon, Future Strategic Tanker Aircraft and armoured vehicle projects.
The UK produces wings for all of the commercial aircraft produced by Airbus, from the A319 to the giant A380 double-decker, the world's largest passenger plane. The Airbus military A400M and many Airbus passenger jets are fitted with engines made by Rolls Royce, a world leader in civil and defence aerospace, and marine and energy products and systems.
An Airbus commercial aircraft that is fitted with Rolls Royce engines has more than half its content by value manufactured in the UK.
In motor manufacturing, the UK is home to seven major car makers - including Nissan, BMW Mini, Toyota and Land Rover - and exports over one million cars a year (average 2000-2009).
Published 1 April 2011