Prince of Wales to meet business leaders in Madrid
Promoting trade and investment is the key priority for the visit by Their Royal Highnesses the Prince of Wales and the Duchess of Cornwall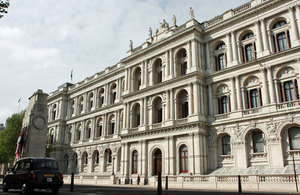 His Royal Highness the Prince of Wales will today (30 March) meet Spanish and British business leaders as part of a drive to promote more trade and investment between Spain and the UK, in order to create jobs and economic growth.
The Prince will meet top Spanish companies at an event in Madrid to reinforce the commercial links between the two countries. Together they will explore the advantages of Spanish businesses investing further in the United Kingdom, the opportunities for British companies in Spain, and for collaboration between British and Spanish companies in emerging markets.
The event at the Comunidad de Madrid, organised by UK Trade & Investment, will highlight the existing and potential future collaboration between British and Spanish companies, as well as reminding Spanish companies of the attractions of the United Kingdom as a great place to invest. .
HM Ambassador to Spain, Giles Paxman, said: 'The United Kingdom is one of the most attractive investment destinations in the world. It is one of the easiest and quickest countries in which to set up a new company. It has a highly-skilled, creative and flexible workforce, and it is a global financial hub with international connections to all parts of the world.
"Many Spanish companies are fast discovering the advantages of investing in Britain, and more are contacting UK Trade & Investment every day to find out how they can expand and grow in Britain. The UK government is cutting bureaucracy to make it even easier to set up and get started."
The UK is the number one destination in Europe for inward investment, second only to the United States globally. More than half of international companies with European headquarters choose London as their HQ.
Spain's exports of goods and services to the UK totalled over £19 bn (22 bn euros) in 2009, and Spanish direct investment in the UK is greater than in the whole of Latin
America. Spanish companies own, amongst other businesses, London Heathrow airport, Scottish Power and mobile telephony provider O2 (and with it the popular Millennium Dome).
Some 400 Spanish companies are investing in the UK. Names such as Santander, Zara and Massimo Dutti can be found in every large UK town or city, and Spanish alcoholic and fruit juice drinks and foodstuffs are highly popular in British supermarkets.
In the other direction, Spain is the UK's seventh largest export destination, with trade in goods and services amounting to over £14 bn (16 bn euros) in 2009, considerably more than all UK exports to China and India combined. Around 700 UK companies are investing in Spain, including BP, Barclays, Diageo, KPMG, British Airways, easyJet and Vodafone.
Published 30 March 2011