World news story
Prince of Wales launches foundation in Romania
On 2 June, the Prince of Wales launched 'The Prince of Wales's Foundation Romania' (Fundatia Printul de Wales), an educational charity which aims to support heritage preservation, agriculture and sustainable development in Romania.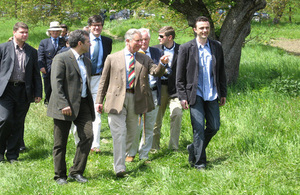 His Royal Highness has a well-known fondness for Romania and first went to Transylvania in 1998. A passionate supporter of the countryside and keen amateur botanist, HRH discovered a rural idyll, largely lost to the UK. Since that first visit, The Prince of Wales has returned to Transylvania many times; each visit further strengthening his desire to help preserve this unique landscape, traditional architecture and way of life, which have survived for hundreds of years.
The Prince of Wales owns – via his Charitable Foundation - a Saxon cottage in Viscri, Brasov County, Transylvania, which was offered to his new charity. Initially, much of the charity's work will take place here; therefore development of the site is vital. The property will be sympathetically restored and transformed into the 'The Prince of Wales's Training Centre in Transylvania' – a logistical hub complete with 70 person conference room, café and accommodation facilities; supporting local communities and the thousands of people who visit Viscri every year.
From the new training centre,The Prince of Wales's Foundation Romania (PWFR) will begin by offering heritage preservation training courses, both to local people and international apprentices. This is the first step in The Foundation's commitment to Romania and rediscovering skills which have been lost in the rural community. Additional courses and support will be launched at a later stage; steered by observing local needs and demands. PWFR will also support charitable projects of The Prince of Wales, as well as those of other charities – benefiting many communities in the region and Romania as a whole.
Alongside the cottage in Viscri, The Prince of Wales's Charitable Foundation owns one other property in Valea Zalanului / Zalanpatak, Covasna County. HRH prompted the purchase of these properties in an effort to support the preservation of local heritage and the protection of Transylvania's unique landscape. The properties – run by Count Tibor Kalnoky and his wife Anna – are open to the public and are available for rental, with all profits going to support HRH's new Foundation.
Romanian-born, Executive Director of The Prince of Wales's Foundation Romania, Aura Woodward said:"Fundatia Printul de Wales will work closely particularly with rural communities across Romania to support them with learning new skills to make them employable."
Notes
The Prince of Wales in Romania
The Prince of Wales is Patron of The Transylvania Fest, a Festival in the Transylvania region of Romania encompassing locally produced food, regional culture and crafts.

HRH is also Patron of FARA (FAURE-ALDERSON ROMANIAN APPEAL) - a Charity formed to work with Romanian adults and children who suffer from mental problems.

Throughout the years, The Prince of Wales has supported a number of other charities in Romania, including:
The Mihai Eminescu Trust from 2000 – 2013 (HRH was their Patron)
The ADEPT Foundation
Monumentum
The Kalnoky Trust
INTBAU Romania